Hillary Clinton: 'We Have a Fun Deficit in America'
In what may be her final paid appearance before announcing a presidential campaign, Clinton bemoans the loss of civility in politics.
by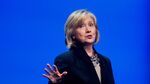 ATLANTIC CITY, N.J.–Hillary Clinton would love to see sleepaway camps for adults and more relationship-building in Washington, she said Thursday at what will likely be her final paid appearance before launching her expected presidential campaign.
"We really need camps for adults,"  the former secretary of state told the American Camp Association of New York and New Jersey's Tri-State CAMP Conference. "None of the serious stuff ... I think we have a fun deficit in America."
In an hour on stage, Clinton mixed recollections of her own childhood with some discussion of her path forward. As she has hinted, it would include a focus on finding consensus across party lines.
"If you don't build relationships with people and all you do is show up to argue or show up to point fingers, you can't get anything done," she said.
It's a difficult environment, she later added, "where you are under 24/7 scrutiny, where everybody is leaking and talking."
Clinton recalled reaching out to President George W. Bush and the late Sen. Robert Byrd (D-W.Va.) to get support for New York following the Sept. 11 attacks. She said in that case, personal relationships made the difference. During the Clinton administration, then-House Speaker Newt Gingrich (R-Ga.) "would say the worst things about Bill and sometimes me," but he would still meet with the president on the second floor of the White House to work out compromises.
In the years since, some of that comity has faded as members of Congress face "insatiable pressure" to raise "crazy" amounts of money, Clinton said. "And the Supreme Court made it worse," she added.
Clinton said she mostly reads "mysteries and histories" and has recently been reading a lot of books about the Founding Fathers and George Washington's first term. Governing and politics "has always been hardball," she said, but "we've lost relationship-building and consensus-building."
While a camp conference in Atlantic City is an unusual venue for a former secretary of state and likely presidential candidate, it makes more sense considering her host: Jay Jacobs, a camp director and chairman of the Nassau County, Long Island, Democratic Party. Jacobs, who's also on the Democratic National Committee's credentialing committee and has given $5,000 to Ready for Hillary, spent half an hour questioning Clinton on stage.
Clinton said that her own experiences with camp were limited to day camps and girl scout camps, but that her daughter, Chelsea, insisted at age 5 that she wanted to go to sleepaway camp. Chelsea didn't go until age 8, and picked a German-language camp "because daddy studied German in college." 
Chelsea's week at German camp in Michigan was "the worst week," Clinton said, before correcting herself: "Well, I've had a few bad weeks but it was up there."
Jacobs did not ask her about the scrutiny she's been facing for the past three weeks for using a personal e-mail address while at the State Department, but she said Nelson Mandela when facing her own obstacles.
"Politics in the United States can be rough," she said, but from Mandela she learned "you cannot let other people imprison you–you have to always be learning and growing and changing."
Before it's here, it's on the Bloomberg Terminal.
LEARN MORE