Cornyn Offers Proposal on Abortion Dispute in Human-Trafficking Bill
Kathleen Miller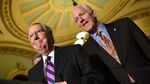 Second-ranking Senate Republican John Cornyn, sponsor of an anti-human-trafficking measure stuck in a partisan fight over abortion, offered Democrats a proposal to resolve the dispute. Democrats expressed skepticism.
Cornyn of Texas on Thursday suggested requiring money for trafficking victims to be subject to the same restrictions as annual spending bills have on funding for abortion. Democrats have objected that the trafficking legislation would expand restrictions on abortion by barring a new victims' fund from paying for the procedure.
The standoff over the trafficking measure has delayed a Senate vote on confirmation of Loretta Lynch to become U.S. attorney general. Senate Majority Leader Mitch McConnell said he would hold off on the Lynch vote until the dispute over the human trafficking legislation was resolved.
Senator Patrick Leahy, a Vermont Democrat, said "the easiest way is to remove" the abortion language so "survivors can make their own health-care decisions."
Leahy, speaking on the Senate floor, objected to Cornyn's description of the proposal as following the regular practice for prohibiting the use of public money on abortion.
"The money at issue in this bill is collected from sex traffickers" and "relies on zero taxpayer dollars," Leahy said. Even with Cornyn's proposed change, the bill would be "a huge, new step to subject non-taxpayer money" to the ban on using federal funds for abortion, he said.
Other Nominations
Cornyn said votes on other nominations also may be held up if Democrats continue to block the trafficking bill.
"It's important for Senator McConnell to hold to his commitment -- no nomination vote on Loretta Lynch, and I might at some point suggest that we add other potential nominations to that list," Cornyn told reporters.
"I'm giving them a chance to say yes," Cornyn said earlier on the Senate floor regarding Democrats' resistance to the abortion provision. The proposal would give Democrats "what they ask for and still preserve the 39-year limitation on using public dollars for abortion."
The bill's anti-abortion language bars use of federal funds for women seeking abortion except in cases of rape, incest or to save the woman's life.
Under Cornyn's proposal, money for trafficking victims would go through the usual appropriations process, instead of being placed into a special fund that would bar spending on abortion.
"We definitely don't have a deal," said Missouri Democrat Claire McCaskill. "I'm trying to work with some people on a proposal we think might work."
Before it's here, it's on the Bloomberg Terminal.
LEARN MORE