The Flat Black and White Politics of Starbucks
The coffee chain is using its cups as billboards, and putting its baristas to work as racial counselors.
by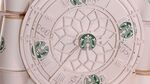 Starbucks was never going to win big if it was only about coffee. Howard Schultz swooned as soon as he sampled the Sumatra, but he wasn't moved to buy the joint until he traveled to Europe, where he fell in love with the culture of Italy's coffee shops. An Italian coffeehouse, Starbucks's website rhapsodizes, was not just a place to stop in for a caffeine fix, but a whole "experience… a place for conversation and a sense of community." Not work, where one toils, not home, where one rests, but a place for recreation and enjoyment, for conviviality and togetherness: a "third place," as goes the company's famous goal. In fact, Starbucks was meant to be a locus for discussion of issues and feelings; this has been central to Schultz's vision all along. "From the beginning," the overview states, "Starbucks set out to be a different kind of company. One that not only celebrated coffee and the rich tradition, but that also brought a feeling of connection. Our mission is to inspire and nurture the human spirit—one person, one cup, and one neighborhood at a time." 
Of course, another reason to inspire and nurture is stickiness for the brand. Mission-based capitalism—think Tom's, which gives one pair of shoes to a poor child for every pair that it sells, think Patagonia or Warby Parker (and, if you can, remember Cross Colours, or American Apparel in its early, more frum, avowedly sweatshop-free days)—is a tool of the MBA arsenal. This isn't to be cynical: Schultz, now the company chairman, president, and chief executive officer, caught on early. Do well by doing good!
He must have thought of that commitment to making Starbucks a "different kind of company" when, earlier this week, he introduced a new project to address and tackle racism in America: the "Race Together" initiative. Starbucks published a full-page ad in the Sunday New York Times, all black but for the words "Shall We Overcome?" A similar one printed Monday in USA Today. Now Starbucks is inviting employees, whom it calls partners, to bridge the difficult subject of broken race relations in America—they can voluntarily write the words "Race Together" on cups. A way to begin unlikely, hopefully meaningful, conversations.
The news release on Starbucks.com is called "It began with one voice." That voice seems to be Schultz's:
As racially-charged tragedies unfolded in communities across the country, the chairman and CEO of Starbucks didn't remain a silent bystander. Howard Schultz voiced his concerns with partners (employees) in the company's Seattle headquarters and started a discussion about race in America. Despite raw emotion around racial unrest from Ferguson, Missouri to New York City to Oakland, "we at Starbucks should be willing to talk about these issues in America," Schultz said. "Not to point fingers or to place blame, and not because we have answers, but because staying silent is not who we are."
The statement goes on to say that Starbucks baristas wanted to do "something tangible." What could be more tangible than the written word as invitation to engage? In a video, Schultz encourages employees to jot down the message on the recyclable, maybe compostable paper vessel. Ordering a Teavana Oprah Chai Tea, a Caramel Flan Crème Frapuccino, or a Fizzio handcrafted sodas maybe you want a discussion of Ferguson with that cuppa. Select stores will also offer "Race Together" stickers.
As CEOs go, Howard Schultz is an interesting one; among America's richest executives, there's worse. Starbucks touts its Diversity and Inclusion councils. According to Fortune, 40 percent of Starbucks's 200,000 workers are members of a racial minority. It has set up 'partner networks' for African-Americans, for Asians, for women, for armed-service members, etc. (Each network's community page on Facebook changed its picture yesterday to match the campaign.) The company profile notes two "landmark programs" for employees: "comprehensive health coverage for eligible full- and part-time partners and equity in the company through Bean Stock. " Starbucks made it onto Fortune magazine's "100 best company to work for" in 2013, for the stock rewards and benefits offered, the promotion potential, onsite child care, subsidized gym membership, nondiscrimination policy, domestic partner benefits for same-sex couples. Named for the first mate in Herman Melville's Moby Dick, Starbucks has a certain marriage of folklore and learnedness to the aesthetic: an ethos of artisanship and world culture, in exotic beans and Putumayo CDs. That dedication seems real enough.
And this isn't the first time that Starbucks has taken measure toward responsible corporate citizenship. As Philip Bump outlines in the Washington Post, Starbucks launched a "Create Jobs" program in 2011, where you could buy a $5 bracelet, and pitch in to small business grants. The next year, 2012, brought an attempt to catalyze a deal in Congress, which had been unable to reach an agreement to avert the fiscal cliff, with, guess what, a message-on-cup strategy: "Come Together." In 2013, Starbucks collected almost 1.5 million signatures from its almost 7,000 US stores on a "Come Together" petition, which it delivered to lawmakers in what an illustration would suggest are Starbucks boxes.
When Schultz launched the "Come Together" campaign the day after Christmas, 2012, he wrote: "Rather than be bystanders, we have an opportunity—and I believe a responsibility—to use our company's scale for good by sending a respectful and optimistic message to our elected officials to come together and reach common ground on this important issue."
In a sense, Schultz's longstanding commitment to responsibility is chafing with the day and age. A number of African-American men have been killed at the hands of law enforcement, and America is talking civil unrest and taking to the streets in a way that it has not for years. "Race Together," a syntactically peculiar phrase, is a gesture that's dwarfed by the problem it's designed to address. Twitter figured this out quickly, of course. 
Not to be outdone:
The immortal She-Bopper aside, the backlash was strong. Corey duBrowa, Starbucks' senior vice president of communications, deleted his Twitter account in response. Which did not go over very well.
Some on social media wondered if it might have been wiser for Starbucks, to, say, push for voting-rights or prison-reform advocacy, cameras for policemen, or protest-days off from work. Not to mention the company's significant commitment to health care, or maybe the higher wages or free foodstuff it vowed to grant workers last fall. (Of course, it's possible that Starbucks doesn't want to draw too much attention to its own employment policies—a New York Times article on its automated erratic scheduling last August brought criticism, and a fast commitment by the company to improve policy.) Schultz spoke with almost 2,000 Starbucks employees in cities that have had racial problems. However well intentioned he may be, it's hard to imagine what the employees may have said to the head honcho about race in their lives—let alone how much time employees might have, in the middle of preparing drinks, to engage in intense conversation. 
But the campaign may have more to do with what seems to be the branding strategy du jour. At the least, #RaceTogether was trending on Twitter. 
Last spring, the graham cracker brand Honey Maid launched an ad that showed a variety of households: a two-dad family, a single dad, a military family, an interracial family. The tagline of the spot? "No matter how things change, what makes us wholesome never will." Andrew Solomon, writing about the commercial for the New Yorker, said, "It turns out that tolerating gay people is good for business." So, apparently, is talking about race—through scribbles and through stickers. 
It's no surprise, considering the timing of the "Race Together" launch, that Starbucks's annual shareholders meeting is being held on Wednesday. Schultz will speak about the initiative then (feel free to watch the webcast here).
Starbucks locations are by now an actual predictor of gentrification. The CEO and chief economist of the real-estate site Zillow wrote this January, "Starbucks seems to be fueling—not following—these higher home values." That's a complicated social problem that it would be very difficult to bring up on a coffee cup. So we have "Race Together."
The Starbucks ad campaign "Shall We Overcome?" is a clear, interrogatory, inversion of "We Shall Overcome," the definitive protest song of the 1960s. The rewrite is modestly clever, and more than a little empty. But from Silicon Valley to Starbucks, soft-peddling identity politics is the name of the game.
Well, better than nothing.
Before it's here, it's on the Bloomberg Terminal.
LEARN MORE