Senate Budget Sets Up Clash With House on Defense, Medicare
Heidi Przybyla and Erik Wasson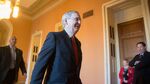 Senate Republicans unveiled a spending plan Wednesday that sets up a confrontation between their party's defense and budget hawks and omits a politically polarizing Medicare overhaul championed by Representative Paul Ryan.
The first Senate budget proposal authored by Republicans since 2006 calls for $430 billion in unspecified savings from Medicare, the health care program for seniors, as part of a plan to trim $5.1 trillion in spending and balance the budget in 10 years without raising taxes. It doesn't include partially privatizing Medicare as does the House plan put forth Tuesday.
Another difference that will make it difficult to reconcile the two chambers' budget plans is that the Senate proposal contains $58 billion in war funding for fiscal 2016, which President Barack Obama requested for next year, in contrast to the $94 billion House Republicans want.
Senator Lindsey Graham, a South Carolina Republican, said he will propose an amendment raising the amount to $94 billion.
"It has got to spend more on defense than Barack Obama," said Graham, a member of the Senate Armed Services and Budget committees.
The Senate budget contains a reserve fund placeholder that allows a deal later in the year to increase defense spending if offsets can be found.
The House plan uses an accounting maneuver to exceed Pentagon spending limits set by a 2011 bipartisan budget agreement. Tea Party-aligned lawmakers will fight to keep those caps in place, while those advocating more defense spending such as Senator John McCain of Arizona say they'll oppose any plan that maintains the limits.
Islamic State
The rise of the Islamic State and terrorism concerns have led more lawmakers from both parties to back increased Pentagon spending. Yet doing so would unravel budget cuts the Republican Party considers its biggest legislative accomplishment unless Congress can find other budget cuts to make.
Democrats in the Senate will block attempts to find savings from entitlement programs or domestic agencies. With the federal budget deficit easing and entitlement cuts unpopular with voters, a number of Senate Republicans also worry that scaling back entitlements would damage them politically in 2016.
The bulk of the Senate plan's savings, totaling $4.2 trillion, come from cuts to entitlement programs.
Reconciling Differences
Republican Representative Tom Cole, a Budget Committee member and ally of Speaker John Boehner, said he doesn't know whether the House and Senate can resolve their differences. He said he realizes the Senate Republicans' majority is at risk in 2016.
"I do think they tend to panic a little bit" by viewing Ryan's Medicare plan as politically difficult, Cole said. "We've passed it four years in a row, maintained and expanded our majority, and I defy anybody to show me a single member of Congress that lost their seat on a budget vote."
There's no clear path to avoiding $35 billion in Pentagon cuts set to take effect beginning Oct. 1.
Both the House and Senate proposals assume $2 trillion in savings from a full repeal of Obama's health-care law -- a measure the president has said he would veto. Both plans also keep the $1 trillion in tax increases from Obamacare under the assumption Congress will find a way to replace the lost revenue.
Supreme Court
The budget blueprint also makes clear that Republicans plan to try to unravel Obamacare if the Supreme Court strikes down federal subsidies in most states later this year. The proposal sets up a fast-track process to revise the law, though the instructions don't require a full repeal.
Both chambers' plans make deep cuts to Medicaid and food stamps. The Senate budget would save $400 billion by creating block grants for Medicaid and combining that with the Children's Health Insurance Program. Another $600 billion in savings would come from creation of a trust fund for states to manage the welfare and food stamp programs.
Yet such cuts aren't enough to bring the budget into balance over 10 years. The House plan would cut $5.5 trillion in spending to balance the budget in nine years, and groups that advocate fiscal restraint say that proposal would pursue a number of "gimmicks" to achieve their goal.
War-Funding Account
For instance, the proposal by House Budget Chairman Tom Price includes about $94 billion for a special war-funding account that isn't subject to the spending limit -- the Overseas Contingency Operations account, which funds military activities in Iraq and Afghanistan.
Representative Mick Mulvaney, a South Carolina Republican, said he would oppose that fund without offsets because "we are breaking the law, not the letter but the spirit" to increase defense spending.
"I'd almost rather have a debate about raising taxes than continue to run up the deficit," Mulvaney told reporters.
Another criticism Republican must address is that their budget doesn't say how they would replace revenue from the Obamacare taxes they propose to repeal. The House plan would provide the government with $41.7 trillion in revenue over the next decade, about $77 billion less than what the government would collect if Congress did nothing.
'Unrealistic,' Unspecified
"While the goals put forward by the budget resolution are praiseworthy, the details are in some ways unrealistic and unspecified," Maya MacGuineas, president of the Committee for a Responsible Federal Budget, said in a statement.
It's unclear whether Republicans can reach a consensus among themselves amid divisions between party members seeking more military spending and others looking to maintain hard-fought spending cuts.
Representative Jeff Denham, a California Republican, told Bloomberg reporters and editors Wednesday that the House will "come together on a budget," although "getting the Senate to agree to that I think will be a big challenge."
Earlier this month, 70 House Republicans signed a letter saying they'd block the budget if military spending wasn't increased. Yet many of them insist on paying for those cuts.
Both budget plans are largely symbolic.
Stan Collender, executive vice president of Qorvis MSL Group, a communications strategy firm in Washington, said Republicans in Congress "don't really care about passing a budget this year" anyway because of political concerns.
The spending reductions it would take to balance the budget are "far more than most Republicans are willing to do," Collender said. That is particularly true when it comes to entitlement cuts.
Medicare Cuts
Price's budget would cut Medicare by $148 billion through 2025. Starting in 2024, Medicare beneficiaries would choose from a range of options, including standard Medicare and private coverage. The government would issue fixed payments directly to the plan.
It's a policy change the Senate didn't embrace as many Senate Republicans seeking re-election in 2016 don't want to cut entitlement programs such as Medicare and Medicaid. The Senate budget chairman, Mike Enzi of Wyoming, is proposing to find $430 billion in unspecified savings in Medicare, the amount Obama says can be found from lowering health costs.
About 60 Tea Party-aligned House Republicans insist on addressing such programs, which are major sources of the federal deficit.
The defense and domestic spending limits were enacted as part of the 2011 Budget Control Act, intended to cut $1.2 trillion in spending through 2021. Congress voted to ease the spending reductions for the past two fiscal years, and the question is whether lawmakers will do the same for 2016.
Obama has called for an end to the automatic cuts. His budget plan offered a $38 billion increase for national security programs over current budget caps, and $37 billion more for domestic programs.
Before it's here, it's on the Bloomberg Terminal.
LEARN MORE