Jeb Bush Promises 2016 Decision in 'Few Months'
He meets with Republicans in the key primary state of South Carolina.
by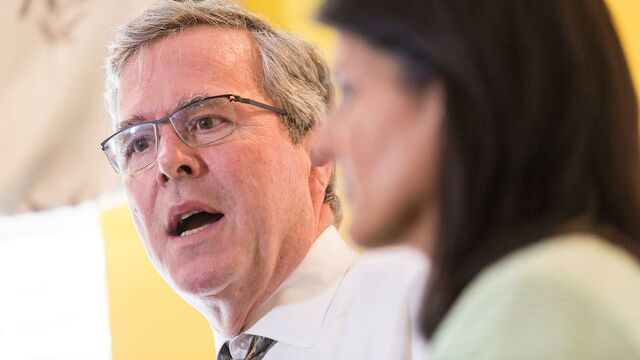 MYRTLE BEACH, S.C.—Former Florida Governor Jeb Bush said Wednesday that he'll make a formal decision about seeking the Republican presidential nomination in "a few months' time," suggesting he may not become an official candidate until summer.
"I have burnt all my bridges behind me," Bush said during a swing through the key primary state, following trips to Iowa and New Hampshire. "In a few months' time—I'm not sure exactly when—I'll make up my mind."
Bush's timeline would put his official announcement deeper into the 2015 calendar than some of his potential rivals, reflecting the differing realities in the race for cash to finance presidential operations.
Bush's team is pushing to raise $100 million in the first three months of the year, and the longer he delays a formal announcement, the longer he can play a direct role in collecting money for his Right to Rise super-PAC. Since announcing in December that he's seriously considering a presidential campaign, Bush has consistently appeared at events for his super-PAC, which can raise unlimited amounts of money.
The longer Bush delays that announcement, the longer he'll have access to top staff, too. Bush's team is considering putting Mike Murphy, one of his top advisers, in charge of the super-PAC, according to a Republican source familiar with the planning. While putting Murphy, a veteran of Republican presidential campaigns, atop the committee would signal a crucial role for the super-PAC, delaying a decision until summer also would give Bush more time to directly strategize with Murphy over fundraising, messaging, and other planning.
Once Bush declares his intentions, he'll have to put more distance between his campaign and the fundraising committee due to legal restrictions facing candidates and current officeholders, such as U.S. Senators Rand Paul, Marco Rubio and Ted Cruz.
Meanwhile, other potential candidates already walled off from super-PACs are weighing an earlier announcement, such as the April 7 date that Paul is targeting.
An announcement in early April (Rubio told donors in January that he was aiming for a springtime decision) would let candidates maximize fundraising efforts before quarterly reports are due in July. While Bush is collecting $100,000, $250,000 or $500,000 for various breakfasts, lunches and dinners, it's an open question as to which candidate will be the best of the rest when it comes to fundraising.
Bush got some help raising money on Wednesday from his mother, Barbara Bush, a former first lady who was once hesitant about another son seeking the White House. In a fundraising e-mail to Jeb Bush's supporters, she wrote: "Our problems are so profound that America needs a leader who can renew the promise of this great nation. Which is why today I'm starting the Run Jeb Run fund."
Jeb Bushs wrapped up a two-day swing through South Carolina on Wednesday by speaking to the Myrtle Beach Republicans and meeting privately with other groups in Charleston. On Tuesday, Bush focused his comments on bridging partisan divides. "It's the president's responsibility to reweave the web of civility," he said. "And this guy does not believe it's his priority or his mission to do that."
CORRECTION: In an earlier version of this story, Jeb Bush should have been quoted as saying he would decide in a "few months' time."
Before it's here, it's on the Bloomberg Terminal.
LEARN MORE