Glenn Beck Just Can't Quit the Republican Party
Is the conservative firebrand really as done with the GOP as he says?
by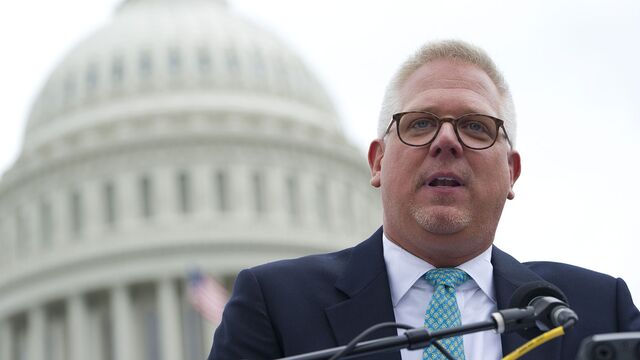 Glenn Beck may have announced he's done with the Republican Party, but it's hardly the first time the conservative firebrand and TV and radio host has suggested he has exited the GOP.
"I've made my decision—I'm out. I'm out of the Republican Party," Beck said Wednesday on his radio show, according to Politico. "I am not a Republican; I will not give a dime to the Republican Party."
But Beck, who is also engaged in a headline-grabbing fight with anti-tax activist Grover Norquist, has certainly shunned, insulted, and even eulogized the Republican Party before.
"I'm done with the GOP," he said on his radio show in January of last year, according to his website. In the episode, he went on to explain why he said he had repeatedly turned down opportunities to address a Republican dinner. "I said, no, because I'm not a GOP guy. You don't want me." (Beck did in fact speak at the dinner in Texas, where he slammed Republicans like Arizona Senator John McCain, House Speaker John Boehner, and other members of the party who he said hadn't acted forcefully enough against Obama.)
Earlier that month, Beck told a caller, "We have never ever been and never ever will be shills for the Republican Party" and said he had "had it with the GOP."
As media blog Mediaite noted on Wednesday, "Beck has long flirted with the idea of leaving the Republican Party once and for all."
In fact, a few days after President Obama's second inauguration in 2013, Beck even donned a white lab coat, tracked down a gurney, showed video of dying elephants, and tossed confetti.
"We're celebrating the death of the establishment GOP," he declared. "We're happy that their dead, progressive-lite Republicans who care about winning more than really anything else."
It was theatrical, but even then not that new: "I hate them," he said of Republicans in June 2011, according to the conservative Newsmax site. "If you speak out in today's world, you're either a Republican or Democrat. How about just being real?"
Before it's here, it's on the Bloomberg Terminal.
LEARN MORE