Wasserman Schultz Will Not Seek Rubio's Senate Seat
She will run for re-election to the House of Representatives.
by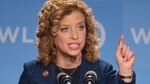 Debbie Wasserman Schultz said Tuesday that she will not run for Marco Rubio's U.S. Senate seat. 
The Florida Democrat, who also chairs the Democratic National Committee, told CNN that she will instead run for re-election to the House of Representatives in her South Florida district.
Rubio, the Republican incumbent, may give up the seat to focus on a presidential campaign. In February, Wasserman Schultz's longtime supporter Andrew Weinstein, who was on the 2012 finance team for President Barack Obama, told Politico she was considering a Senate run if the seat were open.
Former Florida Governor Charlie Crist said Monday that he will not run either. 
Patrick Murphy, another Democratic representative, will likely run regardless of Rubio's decision. His announcement is tentatively scheduled for later this month, according to Politico. 
Wasserman Schultz has been in Congress since 2005, and has been the DNC chair since 2011. 
Before it's here, it's on the Bloomberg Terminal.
LEARN MORE