Republicans Downplay Netanyahu Change on Palestinian State
Lawmakers give a collective shrug over the Israeli prime minister's statements that he will no longer pursue a two-state solution.
by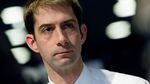 Correction appended.
Senate Republicans who welcomed Israeli Prime Minister Benjamin Netanyahu's attack on President Barack Obama's efforts to strike a nuclear deal with Iran are dismissing his about-face on support for a Palestinian state, a central under-pinning of U.S. policy.
"I think to some degree that's just a statement of fact. There is not going to be a Palestinian State in the short-term because there is not a serious interlocutor on the Palestinian side," Arkansas Senator Tom Cotton said Tuesday during a breakfast with Bloomberg News. "Hamas is still in control of Gaza, Israel had to fight a weeks-long war last summer because they were shooting rockets and mortars and missiles from Gaza into Israel's territory. So I think it's simply a statement of fact for the time being that there's not going to be a Palestinian state."
Last week, Cotton orchestrated a letter signed by 46 of his Republican colleagues aimed at thwarting ongoing negotiations with Tehran. With polls showing a close race as Israelis headed to the polls to decide whether Netanyahu's Likud party will retain a majority control over government, the Israeli prime minister declared Monday that he would not attempt to negotiate a two-state solution if re-elected. 
"I think that whoever today moves to establish a Palestinian state and withdraw from territory is giving attack territory for Islamic extremists against the state of Israel," Netanyahu told NRG. "Whoever ignores that is burying his head in the sand."
When pressed if that meant he would not pursue the long-held road map that posits the creation of a permanent Palestinian state, Netanyahu responded, "Indeed." 
Cotton and other Republicans said Netanyahu's position merely reflects the situation in the region.
Arizona Senator John McCain, who said he has "always favored'' a two-state solution, defended Netanyahu's right to change his mind.
"He's the prime minister of Israel, he's free to take whatever position he wants,'' McCain said in an interview at the U.S. Capitol. 
Republican support for Netanyahu has itself become something of an article of faith for the party, as reactions to the policy reversal suggested. Netanyahu's switch comes just weeks after he spoke to a joint meeting of Congress at the invitation of Republican House Speaker John Boehner and without consulting with the White House. Republicans lauded his March 3 address, which warned that an emerging U.S. agreement with Iran would backfire and leave the Islamic Republic with a "vast nuclear'' program.
"You know what things happen in the political process,'' Senator John Barrasso, the Wyoming Republican, said in an interview in the U.S. Capitol. "It's an election issue, they're discussing and debating it, we'll let the voters decide there.''
Pennsylvania Senator Pat Toomey portrayed the prime minister as simply stating the obvious.   
"There is nobody who has the ability to unify the various factions of Palestinians and be able to deliver on the peace that has to be a condition of a separate state,'' Toomey said in an interview in the Capitol. "And in that absence you can't have the two state solution.''
The Israeli leader's support for a Palestinian state emerged soon after starting his third term in June 2009, Netanyahu made a speech at Bar-Ilan University outside Tel Aviv in which he said he would accept a Palestinian state if it were demilitarized and would recognize Israel as a Jewish state. His words were the foundation of a series of U.S.-backed efforts to revive peace negotiations that ultimately crashed last April. Earlier this month, Netanyahu said his 2009 remarks were no longer relevant because of Middle East unrest. 
Staff for Republicans weighing runs for their party's nomination for the U.S. presidential election in 2016, including South Carolina Senator Lindsey Graham and Florida's Marco Rubio, didn't respond to e-mails and phone calls seeking comment about Netanyahu's comments.
A spokesman for Kentucky Republican Senator Rand Paul, who is also eyeing a 2016 run, declined in an e-mail to comment about Netanyahu's switch.
CORRECTION: The title of this article, as well as the content, were changed to better reflect Cotton's position on Netanyahu's statements. 
Before it's here, it's on the Bloomberg Terminal.
LEARN MORE