The Secret Service's Replica White House Is Part of a Grand Tradition
The $8 million White House replica that the Secret Service requested may have raised eyebrows, but it's part of a long tradition.
by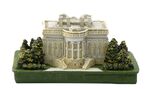 The Secret Service wants to build a $8 million replica White House in Beltsville, Maryland.
That may have struck lawmakers as a big ask from Secret Service head Joseph P. Clancy as he testified before the House Appropriations Committee on his scandal-plagued agency Tuesday. (Clancy did, for the record, offer testimony that seemed to refute some of the more lurid details of a story involving Secret Service agents crashing a car after returning from a party.)
But it turns out the training and defensive replicas have a long history in the U.S. (including a previous replica White House that Clancy said was insufficient to the task).

Project Greek Island
This emergency facility that would house the U.S. Congress in the event of a nuclear strike or other disaster sat undisclosed beneath a West Virginia conference center for decades during the second half of the 20th century. Constructed between 1958 and 1961, the bunker, known as Project Greek Island, extended 720 feet under the posh Greenbrier resort surrounded by concrete walls three to five feet thick. The entrances, "protected by a large steel and concrete door designed to withstand a modest nuclear blast approximately 15-30 miles away, and to prevent radioactive fallout from entering the facility when it is sealed off," according to a pamphlet from the hotel. It had air filtration, communications centers, and kitchens, as well as dorms for hundreds of members of Congress and staff (although many didn't even know about the facility in which they had pre-assigned spots). The facility was exposed in 1992, but has been replaced since then, according to NPR.
The bin Laden Compounds
In the spring of 2011, as SEAL Team Six readied for its mission to capture or kill the world's most wanted terrorist, they practiced at a replica of Osama bin Laden's Abbottabad, Pakistan, compound that had been built at the CIA's Harvey Point Defense Testing facility in North Carolina, according to the Atlantic. It was levelled sometime after the raid.

The team members, who mostly believed they'd been called for a training exercise until they were briefed in North Carolina, trained there for five days starting on April 10 before they flew to Nevada on April 18 to practice flight paths, night drills, and descents from helicopters on government-owned land in the desert, according to the New Yorker.

Iran Centrifuges
 The Los Angeles Times reported Monday that the U.S. has spent more than 10 years building a replica of Iran's enrichment facilities. The purpose of the replica, which is housed "at an undisclosed location in the United States," is to allow the U.S. to gauge the effects of particular restrictions on the Islamic Republic's ability to enrich uranium. It was built using centrifuges from Libya's abandoned nuclear program and other American parts to specifications that relied on a combination of U.S. and other nations' intelligence as well as reports from the International Atomic Energy Agency. (The U.S. isn't alone in this: Iran blew up a mock U.S. aircraft carrier in February.)
The 300-Acre Town
The U.S. army built a 300-acre town in Virginia for $96 million, according to the U.K. Telegraph. It featured "a five story embassy, a bank, a school, an underground subway and train station, a mosque, a football stadium, and a helicopter landing zone."
The Ghost Army
Starting just after the D-Day landing in 1944, a group of American soldiers, many of them with art and design background, headed to France with inflatable tanks, sound effects records, and paint. As PBS put it:" From Normandy to the Rhine, the 1100 men of the 23rd Headquarters Special Troops — the Ghost Army — conjured up phony convoys, phantom divisions and make-believe headquarters to fool the enemy about the strength and location of American units. Every move they made was top secret and their story was hushed up for decades after the war's end."
Replica White Houses
They may not have tactical significance, but Clancy can also rest assured that replica White Houses are pretty common, including a "$20 million replica in the Iraqi city of Erbil" that was built by a Kurdish tycoon.
Before it's here, it's on the Bloomberg Terminal.
LEARN MORE