Ted Cruz Complains About His New Hampshire Coverage
His concern doesn't stop him from riffing on the story about the little girl again, however.
by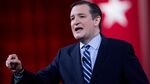 Texas Senator Ted Cruz complained Tuesday about the media coverage of his trip to the key presidential primary state of New Hampshire.
Too much of the national coverage, he said, focused on his "world is on fire" comment and how it caught the attention of a little girl in the audience. Not enough, he said, focused on how he filled more seats than his potential rivals for the Republican nomination.
"Buried down in about the 20th paragraph of that article is a paragraph that said that there were substantially larger groups, crowds of voters that came out when I was there, than had come out for either Jeb Bush or Scott Walker and there was more enthusiasm," Cruz said on MSNBC's Morning Joe, referring to a CNN report. "In the world of journalism, that used to be called news."
"It's gotten worse and worse," he said. "It was first 'girl startled,' then it became 'girl terrified.' By the end of it I'm Freddy Krueger torturing this girl in her nightmare."
The Granite State media, on the other hand, won Cruz's praise.
"The local press all covered the substance of what I said, the reactions of what happened," he said. "National press: It was all about the little girl and me terrifying her. You can literally read the stories side by side as if they're covering Mars and Venus."
Cruz's concern didn't stop him from riffing on the "fire" story again, however.
"I actually talked to the mother yesterday," he said during the segment. "I called her because she was very dismayed. This has blown up in the media."
"It was funny because, Julia, the little 3-year-old, she was in the background, and her mommy said, 'Ted Cruz is on the phone. Who's Ted Cruz?'" he said. "And Julia at the top of her voice said, 'the fireman!'"
Cruz once again said he is looking "very seriously" at a run for president.
"Really we're measuring our support," he said. "Right now the support we're seeing, it's very encouraging."
Before it's here, it's on the Bloomberg Terminal.
LEARN MORE