New Jersey Democrats Say Port Authority Real Estate Sales Should Fund Tunnel
Terrence Dopp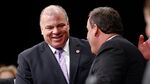 New Jersey Senate President Stephen Sweeney and four other Democratic lawmakers called on the Port Authority to sell real estate and use the proceeds to help build a new commuter-rail tunnel to Manhattan.
The sales of non-transportation assets, including the World Trade Center, would raise about $3 billion for the Port Authority of New York and New Jersey, said Sweeney, a Democrat from West Deptford.
Democrats, who control the New Jersey legislature, say the sales would be the quickest way to restart the project that Republican Governor Chris Christie killed in 2010 because of potential cost overruns. The Access to the Region's Core, aimed at doubling train capacity to New York, had been in planning since 1995. A pair of 100-year-old tunnels under the Hudson River are at capacity.
"The core mission of the Port Authority is transportation -- not real estate," Sweeney said Tuesday during a press conference at Newark Penn Station. "If a tunnel shuts down, three-quarters of the rail traffic stops with it, which would cripple the economy of this state. We're beyond talking about this. It has to happen now."
Gateway Tunnel
Sweeney said his plan would send a signal to the federal government of a local commitment to move ahead with Gateway, an alternative tunnel proposed by Amtrak in February 2011 that he said would cost $7.5 billion. That project, which lacks capital funding, would take at least a decade to build.
While the Gateway project has been designated by Amtrak as a top priority, a share pledge is needed from New Jersey and New York before the operator asks Congress to fast-track it, Sweeney said. The project would be completed in 2025 under the current schedule, seven years after the original ARC date.
"This could be the thing that actually jump-starts that project," said Martin Robins, director emeritus of the Alan M. Voorhees Transportation Center at Rutgers University in New Brunswick.
Robins, a former Port Authority planning director and the ARC tunnel's original project director, said the existing tubes are approaching the end of their life expectancy and the state needs to move forward as soon as possible with new ones.
Core Mission
The Port Authority runs the area's three major airports, Hudson River crossings and marine terminals. In December, a panel formed by Christie and Democratic New York Governor Andrew Cuomo recommended "prudently" selling real-estate holdings that aren't transportation related as part of a plan to remake the agency.
Besides the World Trade Center, other real estate includes a waterfront development in Hoboken and industrial parks in Staten Island and the Bronx. The panel also proposed redeveloping or selling the Red Hook Container Terminal in Brooklyn.
The sales will help the agency concentrate on improving its core transportation assets, the panel said. The authority's plan include improving its bus terminal near Times Square. Replacement with a bigger facility may cost more than $10 billion and take at least 15 years to complete, according to the preliminary findings of a study that will be released Thursday at the authority's monthly board meeting.
"The Port Authority is focused on meeting the increasing requirements for Trans-Hudson transit capacity at our crossings and terminals in coordination with regional stakeholders, and prudently divesting non-core real estate holdings in order to focus on our core transportation mission," Steve Coleman, a spokesman for the agency, said in an e-mail.
Bridge Scandal
Lawmakers, transportation advocates and government watchdogs have pressed for a housecleaning at the 94-year-old Port Authority after e-mails surfaced last year showing that Christie allies deliberately caused four days of gridlock at the George Washington Bridge in a town whose Democratic mayor didn't endorse the governor's re-election.
Because the Port Authority is a bi-state agency, any overhaul must clear both legislatures. New York and New Jersey lawmakers unanimously passed a bill that would have brought more transparency to the agency. That measure was vetoed by Christie and Cuomo on the Saturday evening after Christmas. The New Jersey Senate on Monday failed to override Christie's veto.
Kevin Roberts, a spokesman for Christie, didn't immediately return an e-mail seeking comment on Sweeney's proposal.
Senate Majority Leader Loretta Weinberg said the Port Authority's own estimate places the real estate portfolio at $12 billion and, after navigating complicated leases and deal terms, the value could be whittled to the $3 billion estimate.
Weinberg, of Teaneck, said New Jersey's infrastructure needs investment, and that the state's leverage over the agency would be greater if Christie hadn't vetoed her overhaul.
"We have got to find the resources to invest in what is important to us -- we're a corridor state," she said. "It's time to stand up and do what we have to do.
Before it's here, it's on the Bloomberg Terminal.
LEARN MORE