Senator Hatch Seeks Obama's Help in Negotiations Over Trade Bill
Carter Dougherty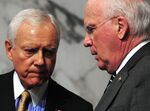 The chairman of the Senate Finance Committee said he talked to President Barack Obama this week in an effort to break a deadlock over trade legislation.
Senator Orrin Hatch, a Utah Republican, said he sought Obama's help on Monday because the panel's top Democrat is seeking a provision that would weaken the bill to grant the president fast-track negotiating power, known as trade promotion authority.
Hatch spoke on the Senate floor Wednesday to argue against changes that would hamper trade deals, a signal he disagrees with the Democrats' proposals.
"We must have strong TPA procedures in place," Hatch said. "And, we need to be clear on one other point: The specifics of those procedures matter -- they matter a great deal."
Even as talks have stalled in the Senate, the Obama administration is seeking support in the House, a traditional battleground for trade votes. U.S. Trade Representative Michael Froman, Treasury Secretary Jack Lew and Labor Secretary Thomas Perez are to meet with House Democrats to answer questions about current initiatives, Froman spokesman Matthew McAlvanah said.
Pacific Deal
Fast-track authority lets the president submit trade agreements to Congress for a quick up-or-down vote in which amendments are barred. It's intended to strengthen the president's hand in negotiations by ensuring Congress won't unravel deals. Obama wants the authority to help complete a trade agreement with 12 Asia-Pacific nations this year.
To defuse criticism that fast track subverts the role of Congress, Senator Ron Wyden of Oregon, the top Democrat on the finance panel, is seeking to include a mechanism that would permit Congress to revoke the quick-approval process. The mechanism would kick in if the trade accord fails to meet congressional objectives.
"My efforts are based on the proposition that if a president -- of whatever party -- doesn't consult with Congress on an ongoing basis it will be harder to produce better trade agreements and win support for them," Wyden said Wednesday in a statement. "I find it ironic that my friends who have complained for years that this president has too much power now argue that modest checks and balances go too far."
'Untested Changes'
Hatch says that the procedure sought by Wyden would undermine U.S. credibility in the negotiations by raising the chances that Congress would nix a final deal.
"We do not need new, untested changes to established TPA procedures that can hamper the process and make it harder both for our negotiators to reach a good deal and for Congress to be able to vote an agreement up or down," Hatch said on the Senate floor.
Hatch spoke with Obama by phone on Monday, Hatch spokeswoman Julia Lawless said.
In an interview Tuesday, he said Obama told him that the White House is encouraging Wyden to find an agreement. Wyden told reporters Tuesday that he met with Obama on trade last week at the White House.
I.M. "Mac" Destler, a professor at the University of Maryland at College Park who studies the politics of trade, said the provision amounts to political cover for Democrats, whose core constituencies have become progressively more skeptical of trade deals.
"The Democrats can say, 'if the administration doesn't play it tight, then we can pull their chain,'" Destler said.
Before it's here, it's on the Bloomberg Terminal.
LEARN MORE