Ted Cruz Says He'd Sign Iran Letter Again in 'Large Print'
Toluse Olorunnipa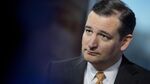 Even as some Republicans expressed regret for sending Iranian leaders a warning against reaching a nuclear deal with President Barack Obama, U.S. Senator Ted Cruz said Tuesday he'd sign it again "in large print."
"I would sign it and, as John Hancock said, I would sign it in large print, so that the Ayatollah wouldn't need his reading glasses," the Texas Republican said on MSNBC's "Morning Joe" program, referring to the most prominent signer of the Declaration of Independence.
The March 9 letter, signed by 47 Republican senators, was intended to prevent a bad deal from moving forward and uphold the U.S. system of checks and balances, Cruz said. Obama, Secretary of State John Kerry and other administration officials have described the letter as unprecedented, unconstitutional and destructive to the talks.
Cruz, a potential 2016 candidate, disagreed.
"If we actually had negotiators that were trying to defend our national security, if anything the letter would help them," he said. "What the letter makes clear is for any deal to be binding, it has to go through Congress."
Obama has accused the Republican senators who signed the letter of "making common cause with the hard-liners in Iran" to scuttle a deal as negotiators face an end-of-month deadline to agree on preliminary terms. In an interview published Monday by Vice News, Obama said Republicans who sent the letter to Iran's supreme leader "damages the country" and is "close to unprecedented."
Cruz shot back, saying Congress has always played a role in reining in the executive branch on foreign policy.
"The idea that hard-liners are using it is utter silliness," Cruz said.
Republican Senators John McCain of Arizona and Ron Johnson of Wisconsin have expressed regrets for sending the letter. Senate Foreign Relations Committee Chairman Bob Corker of Tennessee was one of seven Republicans who didn't sign the letter.
Before it's here, it's on the Bloomberg Terminal.
LEARN MORE