Lawmakers Press Secret Service Chief on Agent Actions
Del Quentin Wilber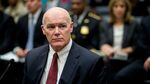 U.S. Secret Service Director Joseph Clancy, under sharp questioning by lawmakers, suggested that a recent incident involving two agents allegedly hitting a White House barricade with a car wasn't as serious as first portrayed.
Clancy testified before Congress that he was frustrated he couldn't give detailed answers about what occurred on the night of March 4, though he provided some specifics that undercut initial media reports suggesting that two intoxicated agents crashed into a barricade, disrupted a response to a bomb threat and ran over the suspicious package.
In testimony before the House Appropriations Committee, Clancy said he hadn't seen "any written report indicating that this event as described has occurred."
The episode followed a series of lapses by agents that has brought scrutiny from lawmakers and an outside review panel of the Secret Service's training, culture and accountability. It dominated Tuesday's House appropriations subcommittee hearing on the agency's $1.9 billion budget request.
"For an agency trying to restore its reputation three years after a well-publicized scandal, this incident brings embarrassment and renewed scrutiny to the Secret Service," said Representative John Carter, a Texas Republican and the panel's chairman, referring to a prostitution scandal involving agents in Colombia. "Simply put, this conduct should not be tolerated and Congress is disappointed to see it on display again."
Oversight Panel
Later, the top Republican and Democrat on the House Oversight and Government Reform Committee, Representatives Jason Chaffetz of Utah and Elijah Cummings of Maryland, said their panel would conduct its own interviews of witnesses and those involved in the latest incident. They said their review would include a hearing to be set for next Tuesday.
Clancy, who turned over investigation of this month's incident to the Department of Homeland Security's inspector general, said he had reviewed a security video that showed the agents' car approaching the 15th Street entrance to the White House on the night of March 4, a Wednesday.
The car "nudged" an orange traffic barrel, which was blocking its path, out of the way and continued to a security post where the agents showed their identification and continued into the White House complex, Clancy said.
A law enforcement official, who has been briefed on the investigation, said the suspicious package was a book tossed out of a car by a screaming motorist claiming it was a bomb.
Agents Unaware
The two agents weren't aware of the investigation into a suspicious package, the official said, and they had just attended a good-bye party for a retiring colleague.
Clancy said the two agents were returning to the White House so one of the agents could collect his car and drive home.
Clancy later on Tuesday met with a group of lawmakers in a closed-door briefing, and they watched the video themselves.
Afterward, Chaffetz said, "The rate of speed of the vehicle, I think, is much slower than maybe some of the other previous news accounts would lead you to believe." He also said, "From the video alone, it's very difficult to tell whether these people had had too much to drink, or whether they had anything to drink at all"
"But there is no doubt in my mind that this vehicle was moving a barricade out of the way," he said, adding the car made its way to within a foot or two of the suspect package. Chaffetz said it was inexcusable for the agents to possibly hinder a potential crime scene.
Anonymous E-Mail
Clancy learned of the matter after being told the service had received an anonymous e-mail alleging that two inebriated agents had crashed into a barricade. That language was later echoed in a story in the Washington Post, which first reported the incident.
Clancy said he moved the two agents to non-supervisory positions. One had been assigned to the president's detail and the other worked in the agency's Washington field office.
The allegations of misconduct touched a nerve because the service is reeling from scandals, including the prostitution incident and a case last September in which an intruder hopped the White House fence, dashed across the lawn and made it into the executive mansion before being tackled.
'Firing People'
For much of Tuesday's hearing, lawmakers of both parties questioned Clancy about why he hadn't fired the agents and why he hadn't more quickly fixed the agency's troubled culture.
"Your actions, in my judgment, should be punishment, termination, firing people who have subordinated their command," Republican Representative Harold Rogers of Kentucky said. "You can't run an agency like this, for God's sakes, or any other agency unless you have discipline in the ranks."
Clancy expressed frustration that he couldn't provide lawmakers more details about what happened on March 4. He said he wasn't privy to the inspector general's probe and that fixing the service's culture would take time.
A former top Secret Service agent who retired in 2011, the 59-year-old was called back to lead the agency by President Barack Obama after Director Julia Pierson resigned in the wake of the fence jumping debacle and other imbroglios. Obama tapped him last month to permanently run the agency.
(Corrects date of incident in second, seventh paragraphs of story published March 17.)
Before it's here, it's on the Bloomberg Terminal.
LEARN MORE