Rudy Giuliani Pressures Senate to Approve Loretta Lynch Nomination
The former New York mayor takes a break from criticizing President Obama.
by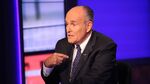 Most people know Rudy Giuliani as one of President Obama's chief agitators, or, perhaps, as the former mayor of New York, but before those incarnations, he worked as associate attorney general at the Justice Department, the place Loretta Lynch hopes to lead. 
Drawing on his prosecutorial experience, Giuliani is lobbying members of the U.S. Senate to confirm Lynch, Obama's pick to become attorney general as Eric Holder's successor. In a letter sent to South Carolina Senator Lindsey Graham on Monday, Giuliani praised Lynch, whose nomination has been held up in a fight over passage of a human trafficking bill, as being "competent, honest, and fair." 
"How we treat nominees like Ms. Lynch has important constitutional implications," Giuliani said in his letter, a copy of which was obtained by Politico. "The scope and the breadth of the advice and consent function of the U.S. Senate has been much debated. My interpretation has always been that a president should be given the deference to choose his Cabinet unless the nominee is unqualified to do the job, has a history of unethical behavior or is so ideologically rigid as to be incapable of making rational choices in the public interest."
Giuliani based his support for Lynch, who is currently the United States Attorney for the Eastern District of New York, from his own observations of her on the job. 
"As former Mayor of New York City and a lawyer now in private practice at Bracewell & Giuliani, I have had occasion to work with Ms. Lynch as she served in the Eastern District. During that time, she was balanced, professional and a dedicated public servant," Giuliani wrote. "As a former senior official in the Justice Department, I can further attest that her skill set seems very appropriate to the tough tasks she would face as Attorney General."  
Senate Majority Leader Mitch McConnell has demanded that Democrats first deal with the human trafficking bill before the vote on Lynch's nomination goes forward. 
"I had hoped to turn to her next week, but if we can't finish the trafficking bill, she will be put off again," McConnell told CNN on Sunday. 
The human trafficking bill failed to clear a procedural hurdle in the Senate on Tuesday as Democrats continued to protest the Republican inclusion of a provision that would ban fees from the measure being used to fund abortions for the victims it is meant to protect. 
Amid that partisan stand-off, Giuliani noted that he had "ideological differences" with Lynch, and would prefer a candidate nominated by a Republican president. That said, the former mayor who, in recent weeks, openly questioned whether Obama loves America, should be allowed to have Lynch appointed as Holder's successor. 
"I would vote to confirm her if I were a member of the Senate regardless of my political affiliation," Giuliani, who encouraged Graham to share the letter with his colleagues, wrote.   
Before it's here, it's on the Bloomberg Terminal.
LEARN MORE