Obama's Favorite Isn't Netanyahu as Israelis Head to the Polls
Terry Atlas and Jonathan Ferziger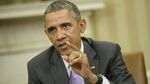 There's little doubt about whom U.S. President Barack Obama favors in Tuesday's Israeli elections.
After years of public acrimony between Obama and Israeli Prime Minister Benjamin "Bibi" Netanyahu, a victory by Isaac "Bougie" Herzog, co-leader of the Zionist Union, would give the president the opportunity to reset strained U.S.-Israeli ties at a critical time for his policies in the region.
"Without doubt, if Herzog forms the next government, the champagne corks will be popping at the White House and at the State Department," said Aaron David Miller, a vice president at the Wilson Center who served as a Middle East negotiator in Republican and Democratic administrations.
While officially neutral, Obama has done little to hide his chilly relationship with Netanyahu, who has opposed U.S. efforts to negotiate a nuclear deal with Iran and to advance the Israeli-Palestinian peace process. Obama made a point of not meeting with him when he came to Washington this month, at the invitation of House Republicans, to attack the Iran negotiations in a speech to Congress.
"The two men clearly loathe each other, so a change in the Israeli government would presumably warm the atmosphere very quickly," said Jonathan Spyer, a political scientist at the Interdisciplinary Center Herzliya, a college north of Tel Aviv.
Alternatively, another term for Netanyahu, leading a right-wing government, could make matters even worse.
No Two-State Solution
In a last-minute bid for votes, Netanyahu has backed away from his earlier commitment to support a two-state solution with the Palestinians, the centerpiece of the stalled U.S.-led peace process. Netanyahu said he wouldn't allow the establishment of a Palestinian state if he's re-elected, according to an interview posted on the NRG news website Monday.
The latest polls show Netanyahu's Likud faction lagging behind the Labor-led Zionist Union bloc by three or four of parliament's 120 seats, with both parties falling far short of the majority needed to form a new government. The complicated multiparty process of forming a government makes it a risky proposition to bet on whether Herzog or Netanyahu will assemble the next government or how soon it will come together.
"The transformation would occur in the event you had a Labor government supported by the center because, for Herzog, one of his primary assumptions is that Israeli security is inexorably linked to the U.S.-Israel relationship," Miller said in an interview. "There will be differences on Iran, the peace process, any number of other issues, but they will be much better managed, more quietly resolved. The soap opera will be over basically."
Possible Outcomes
The polls pointed to other possible outcomes, a right-wing government led by Netanyahu or a weak national unity government in which Netanyahu and Herzog might take turns as prime minister. The last such government was formed in 1984 by Labor's Shimon Peres and Likud's Yitzhak Shamir.
In the case of such a national unity government, "relations will improve, modestly, but that government will not be able to make decisions," said Miller.
"There is a nascent hope that in a new configuration in Israel, if there is, for example, a national unity government, then perhaps the negotiating track can be resumed" between Israelis and Palestinians, Edward Djerejian, a former U.S. ambassador to Israel, said in an interview.
"If it is a narrow right-wing government, I think we will see more of the same, with a renewed emphasis on a settlement policy, which is an irritant in the U.S.-Israel relationship," said Djerejian, founding director of the Baker Institute for Public Policy at Rice University in Houston.
Enduring Relationship
The election outcome is unlikely to affect many elements of the U.S.-Israeli relationship, from trade to security cooperation, that officials from both countries say reflect the enduring strength of the ties between the nations. The U.S. gives Israel about $3.1 billion a year in military aid and is committed to ensuring it maintains a "qualitative military edge" over other regional powers.
Among analysts, much of the discussion is about how much change would come from a Herzog-led government.
Efraim Inbar, director of the Begin-Sadat Center for Strategic Studies at Bar-Ilan University near Tel Aviv, said the different U.S. and Israeli perspectives on a nuclear deal with Iran will be an issue whoever is prime minister.
"Certainly there's bad chemistry between Netanyahu and Obama, but the issue of Iran is much larger than personalities," he said.
Herzog, though, has expressed greater confidence in the U.S. than has Netanyahu, who told Congress that Obama and Kerry are negotiating what would be a "very bad deal" with Iran.
Possible Poison
"If a deal was struck, and that deal was deemed bad for Israel, then Herzog would come out against it, and relations would rapidly re-poison," Spyer said.
The other big item on the U.S. agenda with Israel, the Mideast peace process, might get a new lease on life under Herzog, though.
Those efforts have been stalled since April, when Secretary of State John Kerry's nine-month effort collapsed. U.S. officials privately put much of the blame for that failure on Netanyahu.
That remains a priority for Obama and Kerry, driven by concern that the current impasse is unsustainable, with the potential collapse of the Palestinian Authority and the likelihood that Palestinians will seek war crimes charges against Israel at the International Criminal Court in The Hague.
Renewed Peace Effort
Herzog's platform pledges a renewed peace effort with the Palestinians aimed at finding a two-state solution. It doesn't promise an end to settlement construction, saying any future homebuilding should take place only in so-called settlement blocs that would be annexed to Israel after a peace agreement in exchange for land given to the Palestinian state.
Herzog could make a new start with the Palestinians, said Ephraim Kam, a research fellow at the Institute for National Security in Tel Aviv. "He said one of the first things he'll do is to go to Ramallah to meet" Palestinian President Mahmoud Abbas.
After the election, Obama and Kerry "will want to move in one way or another on the Palestinian issue," said Martin Indyk, who was Obama's special envoy for Israeli-Palestinian negotiations.
"If they have a government that they can work with in Israel that's committed to the two-state solution, then, of course, they will work with that government," he said during a panel discussion on March 11 at the Brookings Institution, a Washington policy research organization where he's executive vice president.
If not, he said, the administration may seek "a UN Security Council resolution that outlines the basic principles of the two-state solution designed to preserve it for the future and to try to avoid a new explosion of violence."
That would be a major jolt to relations with Israel because the U.S. has consistently used its Security Council powers to protect Israel from such measures.
Before it's here, it's on the Bloomberg Terminal.
LEARN MORE