Is Mitt Romney Ready to Fight Evander Holyfield?
The former governor of Massachusetts has a date with the man who beat Mike Tyson twice.
undefined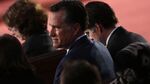 He surprised America by flirting with a presidential run, but that was just the start. 
Mitt Romney has decided to step into the boxing ring with former heavyweight champion Evander Holyfield, the Salt Lake Tribune reported. 
The May 15 match will benefit Charity Vision, an organization founded by a Salt Lake City doctor that provides medical equipment to poverty-stricken areas around the world. 
"It will either be a very short fight, or I will be knocked unconscious," Romney told the paper. "It won't be much of a fight. We'll both suit up and get in the ring and spar around a little bit."
Just how ready to box is Romney? Well, he seemed to be in great shape when he made the presidential rounds earlier this year. And he has met at least one famous boxer, who could have given him a tip or two. In 2012, he talked to world champion Manny Pacquiao in the locker room before a big fight. As the story goes, as reported in the Washington Post, Romney went up to Pacquiaio and introduced himself, saying, "Hi, Manny. I ran for president and lost." 
(Pacquiaio wound up getting knocked out by Juan Manuel Marquez, and Romney got the blame.)
In 2008, we got to see what Romney might look like in gloves and trunks, thanks to The Atlantic's excellent cover previewing his debate with Obama.

For his part, Evander Holyfield doesn't box professionally anymore, having formally retired last year. He recently appeared on the U.K.'s Celebrity Big Brother. 
Before it's here, it's on the Bloomberg Terminal.
LEARN MORE