Iowa GOP Wants Scott Walker to Sack Social Media Adviser Over Tweets
Tweeting negatively about the Hawkeye State has its consequences.
by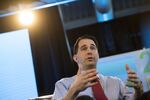 For the last nine hours, conservatives inside and outside of Iowa have been chastising Scott Walker's embryonic campaign for hiring Republican consultant Liz Mair. This afternoon, in an interview with Trip Gabriel, Iowa Republican chairman Jeff Kaufmann called on Walker to give the "shallow and ignorant" Mair her "walking papers." That escalated the spat—the GOP in the state where Walker's built a polling lead was giving him an ultimatum.
"The important distinction here is that she went after Iowans, not just the caucuses," explained Iowa GOP spokesman Charlie Szold.
While Breitbart News and other conservative outlets had attacked Mair over her happily professed "RINO" tendencies -- her support for gay marriage and immigration reform—Kaufmann was honing in on a few tweets from January. At the start of the Iowa Freedom Summit, a candidate cattle call hosted by Representative Steve King, Mair appeared to tweet her disgust for the state.
What set Mair off? While she's not commenting on any aspect of this story, I remembered the inciting incident—an opening speech from Iowa radio host and GOP influencer Jan Mickelson. On January 24, at around 9:05 a.m. central time (i.e., 10:05 a.m. eastern), Mickelson poked fun at DREAMers, immigration activists, protesting outside the summit.
Mair, who at that point worked for no candidate, was doing the Twitter equivalent of an eye-roll at immigration hawk rhetoric. Her opinion was well known: She thought that rhetoric, and the policies wedded to it, hurt Republicans. Her problem, two months later, was that she expressed this as total exasperation at Iowans.
Before it's here, it's on the Bloomberg Terminal.
LEARN MORE