Democrats Denounce 'Reprehensible' Michigan Bill to Skew Electoral College
The battle to make Michigan safe for Republican presidential candidates continues.
by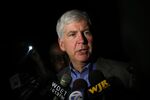 Last week, after Bloomberg Politics ran a short story on some Republican bills to split up Michigan's electoral votes, the bill's sponsor spoke out. Cindy Gamrat, the state representative who had resurrected the bill—now seeing its third consecutive legislative session —took exception to its characterization as "electoral college-rigging."
"My bill, HB 4310, will make the votes of every individual citizen much more impactful, providing for accurate representation of the great diversity of the people and geography of our state," wrote Gamrat on Facebook. "It will make the voice of Michigan heard in national elections, and ensures presidential votes most closely represent the will of the people in each congressional district. It also preserves the checks and balances proscribed by the original intent of our Constitution—our founders designed the electoral college to ensure the rights of states; a winner-take-all system based on the popular vote stands in stark contrast to the careful deliberations and decisions of our founding fathers."
This was a greatest-hits tape of arguments for splitting up electoral college votes by congressional districts. It relied on the usual fallacies. One: That "individual citizens" mattered more in systems designed to minimize Democratic vote. Two: That the "rights of states" were protected by assigning electoral votes by however the party in power drew the map for a given decade.
The fact remains that the 2011 gerrymander packed congressional Democrats into five seats, and that had HB 4310 been in effect three years ago, Mitt Romney would have walked away from Michigan having lost the popular vote by 449,313 but won the electoral vote by two. The 2011 map renders Michigan Democrats basically powerless, dependent on the good will of Governor Rick Snyder, who won a narrower-than-expected re-election in 2014.
"The Republicans have been rigging the system in Michigan," said Michigan Representative Sander Levin, the senior Democrat in the congressional delegation. "They did it with redistricting. For them to now do it for presidential races is really, I think, reprehensible. And I think the governor needs to make this really clear. He can't just say the bill's not on his agenda. The governor has to stand up for what I think he believes. He said he doesn't like it; now he has to make clear he will veto."
Michigan Representative Dan Kildee, who won a safe Flint-based seat in 2012, said that some sort of electoral changes might make sense, but that the district plan was too obviously concocted to vote in Republicans.
"Unless we're going to do electoral reform on a national scale and have congressional districts drawn to reflect the will of the electorate," he said. "In Michigan, you already have more people voting for Democrats than Republicans—we had more votes for Democrats than Republicans in 2014, and the Republicans won nine seats to our five. If you start with the map, and use that as the basis for electoral votes, all you do is slant the election."
E-mails and calls to Governor Snyder's communications office were not answered on Tuesday. [UPDATE: Snyder's office answered at 5:13 p.m. "Governor hasn't had a chance to review any recently proposed legislation, so we're unable to react," said spokesman Dave Murray. "In general, the governor has said that he had concerns about the timing of potential Electoral College changes. He believes the most appropriate time to make such a move would be before the next census and redistricting efforts, making sure such a change would reflect the vote of the people."]
Democrats, as Levin said, don't feel that he's driving the electoral college-skewing train. What worries them is that, in 2012, Snyder was similarly dismissive of right-to-work legislation. After the election, and after a gerrymandered map preserved most of the GOP legislative majority, he signed right-to-work into law.
The difference presented by the electoral college bill is that it lacks an ideological constituency. On the main, it would be great for Republicans, who have not won Michigan's electoral votes since 1988. It's just not as defensible, as policy, as right-to-work.
"I kind of like winner-take-all, myself," said Republican Representative Dan Benishek, whose mammoth first district is the last semi-competitive one in the state. "I just think it gives the smaller states a bigger stake in what's going on."
Before it's here, it's on the Bloomberg Terminal.
LEARN MORE