Hillary Clinton Didn't Certify She Returned Government Records in 2013
Steve Geimann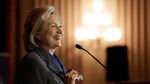 Former U.S. Secretary of State Hillary Clinton didn't sign a form certifying she turned over official government records when she left office in early 2013, the department's spokesman said Tuesday.
"We have reviewed Secretary Clinton's official personnel file and administrative files and do not have any record of her signing" the document, spokeswoman Jen Psaki said. "It's not clear that this form is used as part of a standard part of check out across this whole of government, or even at the State Department."
The document, called a separation agreement, is supposed to be signed by office holders when they depart, asserting they have turned over any copies of official documents. Psaki said the department also couldn't find a record of the form signed by "either of her immediate predecessors."
Republicans who are seeking copies of Clinton's official e-mails about the 2012 attack on the U.S. consulate in Benghazi, Libya, filed an open-records request with the department Tuesday seeking copies of the form, known as the OF-109.
Clinton, secretary of state from 2009 until early 2013, used a private e-mail address and a home server while in the job. Her office said March 10 she gave 30,490 work-related e-mails to the State Department, which is reviewing them for public release. Another 31,830 e-mails, which Clinton said involved personal matters such as wedding planning or yoga routines, were deleted.
She handed over the e-mails after the State Department in late October requested such files from Clinton and her predecessors for record-keeping purposes.
Before it's here, it's on the Bloomberg Terminal.
LEARN MORE