Aaron Schock and the Accidental Scandal That Wouldn't End
The Illinois congressman whom no one will miss.
by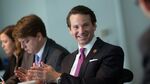 The news that Illinois Representative Aaron Schock would resign his seat broke at exactly the wrong time for reporters. Politico, which had published a series of damning investigations into Schock's free-spending lifestyle, got the story just after votes ended and most members of Congress had scattered for their offices. North Carolina Representative Patrick McHenry, who like Schock had been the youngest member of his freshman class, was left to fend off three reporters asking for a reaction. He had learned about the news from Twitter, and Schock had not given leadership a heads up.
"I think Aaron is a very intelligent person, has had a great career in public service, from his time in the state house, now in Congress," said McHenry. "I think it's a real loss."
I asked McHenry if Schock had been treated fairly by the press. He furrowed his brow. "What are you going for?" he asked. "No Republican would ever complain about the press." 
What I meant (and asked, as McHenry politely declined to answer) was whether any member of Congress could have survived the scrutiny that had come down on Schock, when Schock, under duress, was saying they couldn't.
The telegenic congressman's tumble began on Feb. 2, when Washington Post reporter Ben Terris published a story that Schock's office had bungled. Terris, a reporter for the paper's Style section, had not set out to write a takedown. He just happened to stop by the office when Annie Brahler, an interior decorator, was around to explain how she designed the space to look like a Downton Abbey suite. Schock's communications director panicked:
"Are you taking pictures of the office?" he asked. "Who told you you could do that? . . . Okay, stay where you are. You've created a bit of a crisis in the office."

A staff member then came and asked me to please delete the photos from my phone. So started a day of back-and-forths with a congressman's office about interior design.
The over-compensation clued the press corps into a story. ABC News ambushed Schock outside the office, with a video camera, as reporter Jeff Zeleny shot off questions about the expensive redesign. "I've never been an old crusty white guy," explained Schock. 
As Politico, CNN, BuzzFeed and other outlets scoured Schock's expenses, they found scandals. Politico's Jake Sherman interviewed the congressman in his district, after he had effectively cut off reporters in Washington. Once again, he deflected by saying that he was being treated unfairly. "Whether you look at my reports or you look at any member of Congress' reports," Schock told Sherman, "I'm sure that you can find a story to write about any member of Congress."
CNN doorstepped Schock around the same time. Faced with another camera, and more questions about subjects like whether his appearance on Top Chef had been ethical, Schock gave more evasive answers and split. He had no allies to his right, as he'd been critical of the party's hard-liners, and the Club for Growth had already considered challenging him. Had he stuck around, he could have faced a primary with–for the first time–a struggle raising funds.
Schock's resignation, effective at the end of the month, is highly unlikely to change Congress. His district, drawn by Illinois Democrats to be safely Republican, will almost certainly stay red. He hadn't yet inspired an official House ethics investigation; when he's gone, there'll be no way to start one. His announcement today throws off news channels that had been covering the heavily hyped, and impactful, rollout of the House GOP budget. A day that had been about the billions of dollars shifting toward war spending and away from health-care spending will be about the thousands of dollars one congressman blew on frivolity. If Schock follows the career path of former House Majority Leader Tom DeLay or failed congressional candidate Krystal Ball, he may even turn his scandal into a launchpad for strange celebrity.
"Honestly, I feel a little weird about it all," Ben Terris said via e-mail. "I've never even met the guy; feel odd being such a part of his life."
Before it's here, it's on the Bloomberg Terminal.
LEARN MORE