The Bottom Line on Getting to the Bottom of Benghazi: $2.1 million
Monthly reports make it possible to find out how much the House Select Committee has spent on its investigation.
by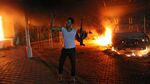 Unlike other congressional committees, the one investigating the deadly 2012 attack in Libya doesn't have a spending cap. It's authorized to spend "such sums as may be necessary'' to carry out its duties.
Thanks to the committee's monthly reports, it's possible to know to the penny exactly what sums have been necessary so far.
The tally: $1,795,017 from the time the panel began work in May through the end of 2014. More than three-fourths of the total went to compensate staff.
So far in 2015, there's only one report to examine.  It showed that the House Select Committee on Benghazi spent $289,085 in January. 
The grand total, so far, is just less than $2.1 million.
How much it eventually spends will depend on how long it takes to fulfill all of the committee's mission, which has been expanded to include a look at Hillary Clinton's e-mail practices while she was secretary of state.
Before it's here, it's on the Bloomberg Terminal.
LEARN MORE