That's Mike Huckabee, Former Diabetes-Cure Spokesman, to You
He cuts ties with a company as he weighs a presidential campaign.
by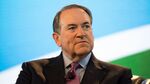 Not long after leaving his Fox News show to explore a presidential run, Republican Mike Huckabee has cut ties to a company for whom he promoted a cinnamon-linked diabetes treatment, a spokeswoman tells the New York Times.
Huckabee is a former Arkansas governor who was diagnosed with type-II diabetes before losing weight. As the Times reports, his unsuccessful bid for president in 2008 was plagued by money trouble, and since then, he has "pursued some highly unconventional income streams." (In addition to the scientifically "dubious" diabetes gig, the newspaper says, he has sold ad space in his e-mail newsletters for such products as a supposed Biblical cancer cure.)
Huckabee's career as a frontman for the diabetes treatment will live on in this video, where he says the "solution kit" will "stop diabetes in its tracks and actually reverse it." Prescription drugs "are only going to keep you a loyal, pill-popping, finger-pricking, insulin-shooting customer" for "Big Pharma," he says. But with this system, "most people find within four weeks they don't need any medication at all." The system is endorsed by a doctor named Scott Saunders, an expert in "reversing diabetes naturally," he says.
Huckabee's 2016 exploration has included recent stops in the key Republican nominating states of South Carolina and Iowa (he won the latter in 2008 and performs well in polls there). He has also discussed what he would do differently as a presidential candidate this time around—namely, raise more money.



Before it's here, it's on the Bloomberg Terminal.
LEARN MORE