Republicans May Need Court Order to See Hillary Clinton's E-Mail Server
Mark Drajem and Billy House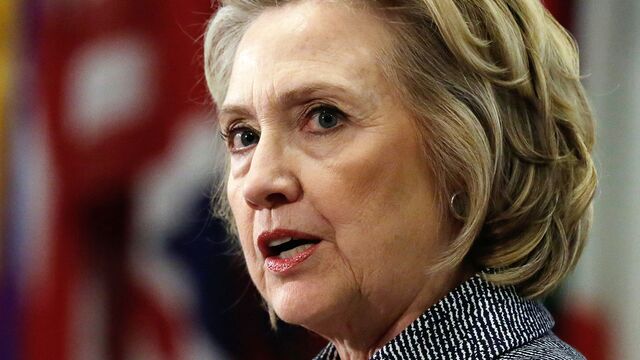 Republican lawmakers are pushing Hillary Clinton to turn over her private e-mail server to an outside arbiter, a step that they say may require them to take the former U.S. secretary of state to court.
South Carolina Republican Trey Gowdy, head of a House panel examining the 2012 attacks on the U.S. consulate in Benghazi, Libya, said Clinton and her aides shouldn't get to decide which e-mails are government work and which are personal.
"I just can't trust her lawyers to make the determination that the public is getting everything they're entitled to," Gowdy said on "Fox News Sunday." If she doesn't agree to a voluntary review, "the House as an institution may be forced to go to court to try to get access" to the server, he said.
Legal action may be required to enforce any subpoena issued by a House committee scrutinizing Clinton's use of a private e-mail account while the nation's top diplomat. Lawmakers could opt to subpoena her computer equipment to find out if she withheld messages containing government business.
"I hope it doesn't get to that point," Gowdy said, saying it's an open legal question if a House subpoena would hold up in court.
State Review
Clinton, secretary of state from 2009 until early 2013, used a private e-mail address and a home server. Her office said March 10 she gave 30,490 work-related e-mails to the State Department, which is reviewing them for public release. Another 32,830 e-mails, which Clinton said involved personal matters such as wedding planning or yoga routines, were deleted.
"There's no reason why the House can't subpoena a former official for records that are in her possession," said Aziz Huq, a professor at the University of Chicago who teaches and researches constitutional law.
As long as it's an issue of legislative business or connected with congressional oversight, the Republican-led House has wide leeway to vote to authorize a subpoena for Clinton's e-mails and the contents of her server, Huq said. The House Oversight & Government Reform also could issue subpoenas, but courts give greater weight to those issued from the full congressional body, he said.
'Neutral Arbiter'
"We are not ruling out any options at this point," Michael Steel, a spokesman for House Speaker John Boehner, said in an e-mail. Clinton "must turn over the server to a neutral arbiter who can inventory the records, make a complete, thorough accounting and impartial determination of which e-mails and records are official and the property of the federal government."
In response, President Barack Obama could seek to claim executive privilege, an argument weakened but not entirely undermined by the fact that the e-mails are from Clinton's private system on her property in New York, said Mark Rozell, a George Mason University professor of public policy.
"The burden would be on the president and administration to make the case that the release of the e-mails would hurt the national interest," Rozell, author of a book on executive privilege, said in an interview. "There may have to be some process where the e-mails are reviewed in private."
Representative Jason Chaffetz, chairman of the House's oversight panel, has said he would prefer not to subpoena Clinton but his panel is looking into the issue of her communications.
Benghazi Committee
The Gowdy Benghazi committee has already subpoenaed the State Department for materials and sent letters to Internet service providers to preserve any records they may have.
Gowdy has said that the panel lacks authority to issue a subpoena for the Clinton server, and a vote by the full House may be needed to get the equipment.
Clinton spokesman Nick Merrill didn't respond to a request for comment Monday on the possibility of a subpoena. In a press conference last week, Clinton balked at handing over the unit.
"The server contains personal communications from my husband and me, and and I believe I have met all of my responsibilities and the server will remain private," she said.
Chaffetz and Gowdy declined to discuss Monday the possibility of issuing subpoenas before and after they met behind closed doors with Boehner.
Representative Elijah Cummings of Maryland, top Democrat on the Oversight and Benghazi committees, said in an interview he didn't know what the Republican lawmakers plan to do. He said Gowdy probably will focus on Benghazi and "Chaffetz will deal with a much broader field -- the server and all of that."
'It's Overkill'
"I think it's overkill," Cummings said. "I think it's unprecedented."
Cummings said that in 2007, when Democrats controlled the House, they sought documents related the dismissal of eight U.S. attorneys while Republican George W. Bush was president. In the probe, he said they learned some e-mails were sent using a server run by the Republican National Committee, not from a government computer.
Instead of issuing a subpoena, Cummings said the former Oversight Committee chairman, Henry Waxman of California, negotiated with Republican National Committee lawyers.
"I think that this is an appropriate way to try to address that, if it's going to be addressed," Cummings said.
Cyber security experts say that it's possible even deleted messages could be recovered. Standard deletion would likely leave most or all of the contents stored somewhere on the computer system, allowing recovery with forensic tools, Ken Westin of Tripwire said in an e-mail. There might also backup copies somewhere, he said.
Recovering Documents
"If she just deleted them, they will probably still be present and recoverable," said Eric Fiterman, a former FBI agent and cybersecurity expert. "But if she hired someone who specializes in data recovery and forensics to make data disappear, then odds of recovery are low."
And recovery can only happen if a forensic expert can gain the authority to try and recover the data. With Clinton objecting, Congress or the courts would need to try and force that action.
Given these files were created while Clinton was the nation's top diplomat, "there are all kinds of legislative purposes they could come up with to go after them," said Josh Chafetz, a professor of law at Cornell Law School in Ithaca, New York, who studies constitutional law and legislative procedure. "There's no reason why the House can't subpoena a former official for records that are in her possession."
Uncharted Territory
Still, without any details of what kinds of information are on that computer, a subpoena for the server or an image of its contents, would be a venture into uncharted waters, said Peter Shane, a law professor at The Ohio State University, who has written about the separation of powers.
"This would be absolutely new territory," he said. "Asking for her server is like asking for her file cabinet."
Whatever the legal arguments, Shane and other experts expect the final resolution to come down to a negotiation between Republican lawmakers and Clinton, each driven by their political calculations. Clinton won't want to seem to be keeping secrets, and lawmakers won't want to seem to be bullying her, he said: "Both sides have a political problem."
Before it's here, it's on the Bloomberg Terminal.
LEARN MORE