Poll Shows New Low for Both Republicans and Democrats
For the Democrats, a 39-percent approval rating is actually an improvement.
by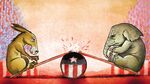 For the first time since 1992, neither major party has an approval rating of 40 percent or higher, according to a Gallup poll out Monday. 
According to the poll, 37 percent of Americans approve of the Republican party, while 39 percent approve of the Democrats. Both parties, for the most part, have stayed below the 50-percent mark since 2010. 
Or as Gallup politely summarized its findings, "For some time, numerous Gallup trends have been showing Americans largely displeased with government's performance and leadership."
Republican favorability had risen to 42 percent following the midterm elections in November, when the party took control of the Senate and added to its majority in the House of Representatives. For Democrats, that 39 percent is actually an improvement. After the midterms their approval rating was at 36 percent, a record low, according to Gallup. 
Gallup reached 1,025 people by phone between March 5 and March 8. The margin of error was plus or minus four percentage points. 

Before it's here, it's on the Bloomberg Terminal.
LEARN MORE