On Trafficking and Toxins, Congress Would Rather Fight Than Win
Even when they agree on issues, lawmakers find a way to keep from passing bipartisan legislation.
by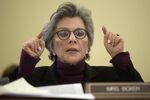 It's not that members of Congress don't work hard; on the contrary, most are regular human storm clouds of activity. Yet they regularly manage to avoid accomplishing anything even on those matters on which they overwhelmingly agree.
Last week, for instance, they kept from passing a bill on human trafficking after Democrats discovered some abortion language in the law that they said they hadn't known was there. Naturally, Democrats would rather not pass a bill at all than sign off on that language. Just as Republicans would rather not pass a bill at all than strip out that language. Though the losers, members from both parties roundly agree, are the trafficked women both sides really do believe they want to help.
This week, we may see yet another no-brainer bill stalled, though with a little different dynamic at work: On Wednesday, the Senate Environment & Public Works Committee will hear testimony on a bill that would update the 1976 Toxic Substances Control Act, in part, in order to regulate the many substances we didn't even know about four decades ago.
Here, too, in theory, all parties agree that yes, the law is in need of a major overhaul. But the compromise bill that even the Environmental Defense Fund supports doesn't go far enough for some Democrats, who may as a result keep it from passing.
Called the Frank R. Lautenberg Chemical Safety for the 21st Century Act, after the late New Jersey Democrat who spent years pushing to fix the original law, the bill would require safety reviews for all chemicals currently on the market. (At present, the government can't even regulate lead or formaldehyde, and only a tiny fraction of chemicals are covered by state regs.)
But there's also a competing bill, co-sponsored by Democratic Senators Barbara Boxer of California and Ed Markey of Massachusetts that would go much further, banning asbestos and cracking down on carcinogens. "Our citizens deserve nothing less than a bill that protects them, not chemical companies,'' Boxer said in a statement. But since her bill appears to have no real chance of passing, nothing is just what citizens may get.
The "half-a-loaf or none" conundrum isn't a new one, but in the increasingly rare cases of bipartisan agreement, is paralyzing pushback from within one of the parties now inevitable?
"We can't wait for the perfect bill; this is urgent," said the Environmental Defense Fund's Richard Denison, who'll be testifying on behalf of the bill on Wednesday. In the view of some Democrats, that means he will be taking the Republican position.
It has already been 26 years since any environmental bill of this magnitude (1990's Clean Air Act) has passed. And it has been 40 years since the original Toxic Substances Control Act was passed in 1976.
As currently written, the human trafficking bill that stalled last week includes language that dates to that bicentennial year. It would make permanent the Hyde amendment, passed annually every year since 1976, that bars the federal government from funding abortions through Medicaid except in cases of rape, incest, or when the life of the mother is at risk. The trafficking bill also now says money from fines paid by traffickers can't be used to pay for most abortions.
But, Democrats argue convincingly that that's not going to happen: "This bill will not be used as an opportunity for Republicans to double down on their efforts to restrict a woman's health care choices," said Senator Patty Murray, a Washington Democrat.
Republicans promise they won't be budging, either, with Senate Majority Leader Mitch McConnell accusing Democrats of "trying to kill this important bill because of a provision they claimed somehow they missed."
Both are principled positions. Yet maybe the way lawmakers wield those principles against one another explains why, according to a Real Clear Politics average, only 18.2 percent of Americans polled currently approve of the job Congress is doing. 
Before it's here, it's on the Bloomberg Terminal.
LEARN MORE