Democrats Fail to Override Chris Christie Port Authority Veto
Terrence Dopp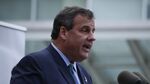 New Jersey Senate Democrats failed to override Governor Chris Christie's veto of a bill to overhaul the Port Authority of New York & New Jersey.
Democrats, who control both the Senate and Assembly, were two votes short of an override. Senator Michael Doherty, a Republican from Washington in Warren County, was the only member of his party to support the effort.
Senate Minority Leader Tom Kean Jr., a Republican from Westfield, urged the opposing party to consider his compromise bill, which would change the agency's management structure and liquidate its real-estate holdings.
"My hope is that once the majority party gets through with the partisan hijinx, we can once again focus on bipartisan reform," Kean said in Trenton on Monday.
Because the Port Authority is a bi-state agency, any overhaul must clear both legislatures. New York and New Jersey lawmakers unanimously passed the measure, which was vetoed by Christie, a Republican, and Democratic New York Governor Andrew Cuomo on the Saturday evening after Christmas.
In New York, where an override isn't possible after a new legislature was seated in January, the overhaul bill was reintroduced this year by sponsor Assemblyman Jim Brennan, a Brooklyn Democrat.
Before it's here, it's on the Bloomberg Terminal.
LEARN MORE