Delaying Lynch Vote in Senate Is Unconscionable, Earnest Says
Kathleen Hunter and Justin Sink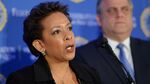 White House press secretary Josh Earnest accused Republicans of playing politics with Loretta Lynch's nomination to be U.S. attorney general, saying that delaying a confirmation vote planned this week would be "unconscionable."
"This is a career prosecutor who deserves bipartisan support, and she should get it," Earnest said Monday at the White House. "There's no question Republicans are playing politics."
Senate Majority Leader Mitch McConnell said Sunday on CNN's "State of the Union" program that a dispute with Democrats over an anti-abortion measure in a human-trafficking bill may hold up Lynch's confirmation vote, which is shaping up as a close one due to some Republican opposition.
McConnell said March 10 that the Senate would vote this week on Lynch's nomination. On Sunday, he said he wouldn't bring up the nomination until the Senate completes the trafficking bill.
Senate Democrats last week accused Republicans of sneaking the anti-abortion provision into the bill, which otherwise has broad bipartisan support, and they are demanding that it be removed. Republicans say they didn't conceal the language, which bars use of federal funds for women seeking abortion except in cases of rape, incest or to save the woman's life. McConnell said his majority doesn't want the language deleted.
Clinton Comments
Hillary Clinton, a likely 2016 presidential candidate and former secretary of state, said in a Tweet that Lynch is a "great nominee," and that blocking a confirmation vote is part of a "congressional trifecta against women today." She also said lawmakers are "playing politics with trafficking victims" and "threatening women's health & rights."
Earnest said Monday the potential delay on Lynch's confirmation vote raises questions about McConnell's ability to "run the Senate in an effective fashion."
The comments ramp up what is already a partisan debate over Lynch's nomination and President Barack Obama's Justice Department policies. Republicans, who have a 54-46 majority in the Senate, have questioned Lynch's independence and criticized her support of the president's immigration policies.
Lynch, 55, is Obama's choice to replace Attorney General Eric Holder, who has frequently clashed with Republican lawmakers over issues including a law enforcement operation to crack down on gun-smuggling at the U.S.-Mexico border as well as federal challenges to states' voter-identification laws.
Holder will remain on the job "as long as necessary" and the White House has "no plan B" for a successor, Earnest said Monday.
Committee Approval
The Senate Judiciary Committee approved Lynch's nomination Feb. 26 on a 12-8 vote, with three Republicans joining all nine Democrats in favor.
The three Republicans backing her were Orrin Hatch of Utah, Lindsey Graham of South Carolina and Jeff Flake of Arizona. Maine Republican Susan Collins also announced her support for the nominee.
The backing of four Republicans means Lynch's proponents need one more Republican for the majority vote required for confirmation -- or for Vice President Joe Biden to break a 50-50 tie -- if all 46 members of the Democratic caucus, as expected, vote for her confirmation.
Some Republican opponents say Lynch's answers to questions from senators didn't assure them that she would be independent enough to stand up to Obama if she disagreed with him.
Immigration Criticism
While praising her long legal career, they criticized her for testifying that Obama's decision to shield millions of undocumented immigrants from deportation was legal. The Justice Department is seeking to overturn a federal judge's decision to block part of Obama's plan.
Lynch, the top federal prosecutor in Brooklyn, would be the first black woman to serve as the nation's top law enforcement official.
Democratic senators say Lynch, who has served twice as U.S. attorney for the Eastern District of New York and was a front-line federal prosecutor before that, is well qualified to be attorney general because she supervised cases involving corrupt public officials and terrorists.
They say Republicans have delayed Lynch's nomination for political gain amid the fight over Obama's immigration actions.
Before it's here, it's on the Bloomberg Terminal.
LEARN MORE