Obama Zings Rivals, Friends, Self at Gridiron Dinner
Hillary Clinton, Scott Walker, and Rudy Giuliani all make the president's act.
by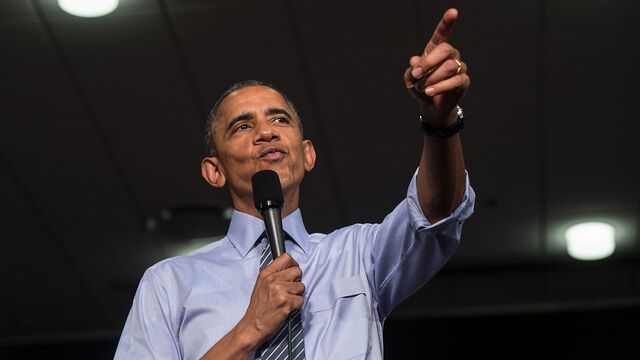 President Barack Obama let loose Saturday at the Gridiron Club and Foundation's dinner in Washington, predicting he'll be getting even more laughs in the coming months thanks to a recent Washington, D.C., ballot initiative.
"I'm not saying I'm any funnier," he told the audience of journalists, lawmakers, and other officials. "I'm saying weed is now legal in D.C."
He applied a light touch to the controversy surrounding his former Secretary of State Hillary Clinton's e-mails, saying, "Hillary has a server in her house. I didn't even know you could have one of those. I am so far behind."
Acknowledging fellow attendee Scott Walker, a likely Republican presidential candidate who recently refused to answer a question about evolution, Obama said: "I absolutely believe in the theory of evolution—when it comes to gay marriage," a reference to his own semantics when he changed his position on the issue.
On his love for America, which former New York City Mayor Rudy Giuliani recently called into question, the president said, "If I did not love America, I wouldn't have moved here from Kenya."
Obama also took aim Arkansas Senator Tom Cotton for penning a letter to Iranian leadership warning against a deal with the president.
"You don't diminish your office by taking a selfie," the president said. "You do it by sending a poorly written letter to Iran. Really. That wasn't a joke."
Before it's here, it's on the Bloomberg Terminal.
LEARN MORE