Carly Fiorina Laughs at Hillary Clinton in a Way Others Can't
In Iowa, Fiorina laughs about what Clinton said about the Secret Service guarding her e-mail server, but her attacks have a much more serious purpose.
by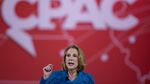 Former Hewlett-Packard CEO Carly Fiorina told an Iowa public affairs show that, as a former tech executive, she finds Hillary Clinton's assertions about her private e-mail account and server "humorous."
"I mean, she talked about Secret Service [agents] guarding the server: The concern is not that the server will be physically stolen," Fiorina told The Insiders with a laugh on Sunday. "The concern is the server will be hacked."
Asked about the revelations that Clinton had used a private e-mail address and server to conduct government business as secretary of state, Fiorina, who is thought to be mulling a White House run as a Republican, said it showed that Clinton didn't know how to lead.
"Hillary Clinton clearly doesn't understand that leadership requires transparency," she said.
It's one of a number of attacks that Fiorina, who was dismissed from HP in 2005 amid ebbing market share, has been repeating of late. At a Saturday morning address to conservative women in West Des Moines, she also repeated another practiced line—that the presumed Democratic frontrunner escapes criticism because of her gender. "She will play that gender card all day long," Fiorina also said of Clinton, according to the Des Moines Register.
As the only Republican woman seriously looking at a run, Fiorina, who was also an important surrogate for the McCain campaign in 2008, has been touted as the only GOP challenger who can go after Clinton on gender issues. 
"Ms. Fiorina alone can present herself as a natural foil without the added risk of being labeled a sexist man," the New York Times wrote on Friday.
The strategy, National Journal wrote, is "winning her friends, as Fiorina assumes an attack role that many Republican strategists think male GOP candidates need to avoid."
After all, hers have been among the swiftest and most aggressive of Republican 2016 contenders' attacks on the former secretary of state. Earlier this month, she told a meeting of the Young Republicans in Iowa that "Hillary Clinton is a woman with no accomplishments." And at February's Conservative Political Action Conference, she also repeatedly went after Clinton over both her record as secretary of state, as well as the foreign donors who gave to the Clinton Foundation from countries with a history of human rights abuses, and set a high bar for her rivals to try and meet. 
"If Hillary Clinton had to face me on the debate stage, at the very least she would have a hitch in her swing," Fiorina said at CPAC. 
Still, Fiorina faces tests of her own. According to the Wall Street Journal, because she has never held elected office, she "is considered a long-shot, though a potential vice presidential contender."
Before it's here, it's on the Bloomberg Terminal.
LEARN MORE