Scott Walker Says He's a Voter-Listener, Not a Flip-Flopper
His potential rivals seek to highlight how he's changed his views on a number of issues, most notably immigration and ethanol.
by and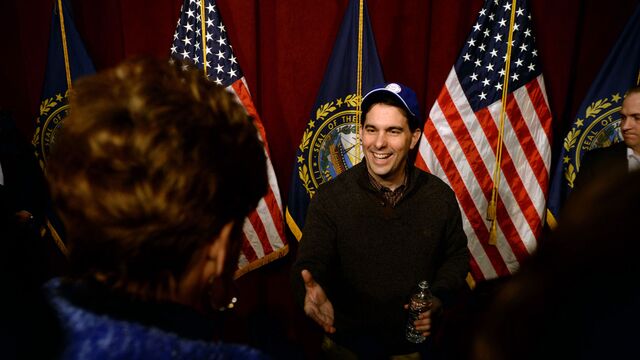 CONCORD, N.H.—Likely 2016 Republican presidential candidate Scott Walker on Saturday defended himself against charges that he's a flip-flopper during a brief exchange with reporters following his only public event on a two-day trip to New Hampshire.
The Wisconsin governor said he always tries to listen to voters, when asked by Mark Halperin of Bloomberg Politics what the difference is between changing your mind on an issue and flip-flopping.
"The key is if you listen to people and you've got a valid argument for why you've done it—we've laid out exactly what we've done," he said in the state that will hold the nation's first primary next year. "But I think people want strong leaders and they want leaders who listen to the people."
Walker's potential rivals for the Republican presidential nomination have sought to highlight the times the governor has changed his views. Such so-called flip-flops proved to be a significant vulnerability for the last Republican nominee, former Massachusetts Governor Mitt Romney, in 2012.
Walker's potential competitors consider changes in his approach toward immigration and ethanol particularly notable. In 2002, the Associated Press has reported, Walker publicly supported creating a pathway to citizenship for immigrants living illegally in the United States. But in an interview with Fox News earlier this month, he said he no longer supports what he called "amnesty" for those who are in the country illegally. "My view has changed," Walker told Fox. "I'm flat-out saying it. Candidates can say that." 
And in 2006, Walker was critical of the requirement that gasoline be blended with corn-based ethanol. However, at an agricultural summit in Iowa last weekend, he said that he supports the Renewable Fuel Standard, which sets the amount of renewable fuel that must be blended into gas sold in the U.S. He also called for the eventual elimination of government support for ethanol and other biofuels, as well as wind energy.
Walker's exchange with reporters followed a speech to Republican activists, and then a question-and-answer session, at a high school in Concord. It was Walker's first trip to the state since 2012, and will be followed Saturday evening by a trip to Washington, where Walker is set to speak at the annual Gridiron Dinner, a white-tie affair that brings journalists and public figures together. 
Walker and Jeb Bush are both early front-runners for the Republican presidential nomination, and their prospective campaigns are closely eyeing each other. This means concerted attempts to draw a contrast. At a Friday evening event in Dover, N.H., Bush allowed himself to be drawn in. When a reporter asked the former Florida governor whether Walker is a "flip-flopper" on the issue of immigration, Bush replied, "He's changed his views on immigration, yeah."
On Friday, Bush emphasized that he plans to keep fast to his positions, and not change them simply to woo far-right voters—something that could hurt a Republican nominee in a general election. The warning, about Walker, was implied.
For his part, Walker engaged with Bush almost as soon as he arrived in New Hampshire. In an interview Friday morning with a paper from Bush's home state, Walker called his potential rival a "friend" and "good man"—then made clear that he sees Bush as part of the past, not the future. "We had Bob Dole, John McCain, Mitt Romney," Walker told the Tampa Bay Times. "If it's just whoever's next up, that hasn't worked so well for the Republican party in the past." 
Walker held only one public event over two days, highlighting the fact that he's essentially starting from scratch in building his New Hampshire relationships. His private meetings included an appointment with former Governor John Sununu, and one with former Massachusetts Senator Scott Brown, who now lives in New Hampshire.
In content, Walker's speech in Concord was similar to the one he gave a week ago in Dubuque, Iowa. Although Walker never mentioned Bush by name, he did, while outlining his family's hardscrabble roots, say that he "didn't inherit fame or fortune."
Asked by an activist about his views on the national Common Core education standards, Walker again declined to directly call out Bush, who supports the standards. "I believe we need to move wholesale proportions of the federal government back to the states, and in some cases, back to the local governments, like education," he said. "I'd rather just have the money and the authority go back to the local level."
Walker added what the state's residents expect to hear from prospective presidential candidates. "We'll be back many more times in New Hampshire," he said.
Before it's here, it's on the Bloomberg Terminal.
LEARN MORE