Jeb Bush Is Facing E-Mail Questions, Too
He decided which e-mails to turn over to the state, and took seven years to fully comply with state records laws. Critics are wondering why.
by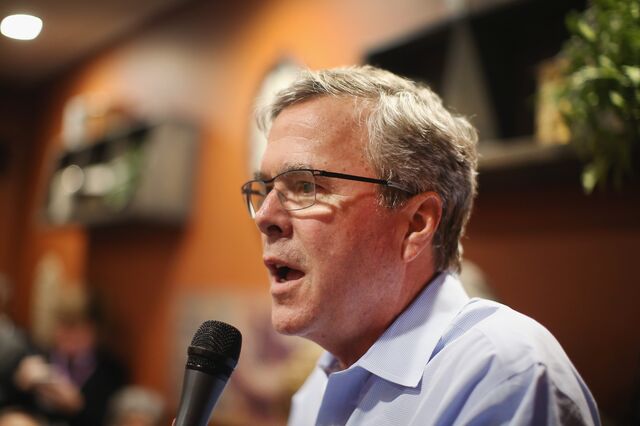 When news broke that former Secretary of State Hillary Clinton exclusively used a personal e-mail address to conduct government business, Jeb Bush was quick to point to his unprompted release of thousands of his own e-mails, a way to tout his own transparency. 
But now American Bridge, a liberal political action committee, is attempting to draw parallels between Bush's e-mail use and Clinton's—and recent news reports show that there are a number of similarities.
The main difference between Bush and Clinton on the matter is that the former Florida governor was open about his use of a personal e-mail address—he used it to correspond with constituents and the press—and seems to have complied with records requests. But both presidential hopefuls themselves determined which e-mails were subject to disclosure laws, and failed to immediately turn over those e-mails to the state after leaving office.
Earlier this month, American Bridge released a memo citing several news stories reporting that Bush and his team, and not the state, had the task of determining which e-mails were subject to disclosure. These reports showed that the 250,000 e-mails Bush made public after announcing his exploratory committee were only a fraction of his correspondence, and that he took several years to turn over his records. The Wall Street Journal noted that, like Clinton, Bush was allowed to sort through his own e-mails, and that "e-mails from the private account unrelated to government business weren't turned over to the state or preserved."
Politifact fact-checked the American Bridge claims, and noted that it wasn't against Florida law for Bush and his team to decide which e-mails belonged in the public record, or for him to use a personal e-mail address. But on Friday, the New York Times reported that Bush submitted 25,000 e-mails to the state only in May 2014, seven years after he left office. (He also submitted e-mails in 2009, 2010, and 2011.) Bush's team argued that it took years to sort through all of the former governor's e-mails, but the Times noted that under Florida public record laws, those e-mails should have been submitted when Bush left office. 
"If they've been adding to [the e-mails given to the state], it's a technical violation of the law," Barbara A. Petersen, the president of the First Amendment Foundation, nonpartisan government data transparency group based in Florida, told the Times. "The law clearly says you're supposed to turn everything over at the end of your term in office." Petersen said that the 25,000 emails that Bush submitted in May 2014 would not have been included in any records requests.
Bush's lawyer Raquel A. Rodriguez told the Times in a letter that the May 2014 e-mails were only discovered recently. "We recently reviewed Gov. Bush's records and came across some additional e-mail messages that may be public records," Rodriguez wrote. Kristy Campbell, a Bush spokeswoman, said the state has a full set of Bush's e-mails. 
During a campaign event in New Hampshire on Friday, Bush argued that the circumstances around his e-mail use were different, and more transparent. "We complied with the law and we have now made my e-mails, long before Mrs. Clinton's issues came up, we made them public for you to see," Bush said, according to Reuters. "So it's totally different." He added that he wasn't surprised that "Clinton operatives" were trying to make the connection. "That's kind of standard operating procedure," he said.
While Bush is not dealing with the same data-security and legal questions as Clinton, the scrutiny has led to questions about how committed to transparency his campaign really is. Some such inquiries come from critics within the party. At the right-leaning blog Hot Air, Ed Morrissey accused Bush of only complying fully with the records law when he decided to run for president. "Why did it take his presidential ambitions to finally force that kind of compliance with the law?" Morrissey wrote.
Before it's here, it's on the Bloomberg Terminal.
LEARN MORE