Jeb Bush Sets Up Contrast to Scott Walker in Appeal to New Hampshire Voters
The former governor sticks to his guns in his first visit to the Granite State as a potential presidential candidate.
by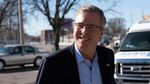 DOVER, N.H.—Jeb Bush's message on his first visit to New Hampshire as a probable Republican presidential candidate: I'm not going to change my positions to woo far-right voters. His implied warning about potential opponent Scott Walker: He might. 
Bush, a former Florida governor, said Friday he would maintain his "backbone" in support of Common Core, despite some conservatives' angst about the national education standards. "I think you need to be genuine," he said. "I think you need to able to persuade people this is a national crisis, this is a national priority." 
"I've learned, though, that because something is controversial, or you have a view that is, you know, the narrative, the so-called political narrative has been built up, you don't abandon your core beliefs," he said. "You go persuade people, as I have tried to do right now, about why I'm for higher standards."
When asked whether he'd dialed back his position that a revamp of U.S. immigration policy should include a pathway to citizenship (he now says "legal status," a less controversial designation), Bush said he's just being a realist. Politically, citizenship has become a "dead-end conversation," he said. But, he said, he could still see himself supporting legislation that includes citizenship—if it had any chance of congressional approval. He said a "grown-up plan" would be to better control the border and then "let folks earn legal status."
Those comments set up a contrast with how he described a would-be Republican primary competitor, Walker, the Wisconsin governor, later in the day. When a reporter asked whether Walker is a "flip-flopper" on the issue of immigration, Bush said, "He's changed his views on immigration, yeah."
Walker said recently that he no longer believes in amnesty for undocumented immigrants. "My view has changed," he said on Fox News Sunday. "I'm flat-out saying it." 
The Wisconsin governor also is spending part of the weekend in the Granite State. He arrived Friday, his first trip here since 2012, and will speak to party activists at a rally Saturday.
Bush's answers on Common Core and immigration were far more robust in New Hampshire than on his trip a week ago to Iowa, another important early state in the presidential nominating contest. On Friday, he first met with two dozen business leaders in Hudson and then took questions from voters at a house party in Dover. 
He seemed attuned to the electorate here, where a bloc of independents could hold the key to victory and where voters closely study a candidate's every move and prize authenticity. 
On display Friday were two aspects of Bush's personality: He can discuss policy to no end, and he has a bit of a temper.
He bristled when a reporter asked Friday evening whether he is different from the two Presidents Bush, his brother and father. He'd taken forms of the question a few times by then. "Are you exactly the same as members of your family?" he replied.
The house party is a New Hampshire tradition. This one was held by Fergus Cullen, a former state party leader who said he is not committing to backing Bush but likes what he hears so far. Voters demand direct access to presidential aspirants, and they politely pelted Bush with questions on topics ranging from ISIS to energy policy to education. He seemed to revel in it, talking at length about what he saw as his accomplishments as Florida governor, from 1999-2007.
Explaining his position on Common Core, which stands in contrast to Republican Louisiana Governor Bobby Jindal and others who have called for its repeal, Bush said the current education system isn't working. He pointed to what he said was an 80 percent high school graduation rate while only one-third of students are prepared for higher education. "We've dumbed everything down." He called it a misconception that the program is a federal takeover.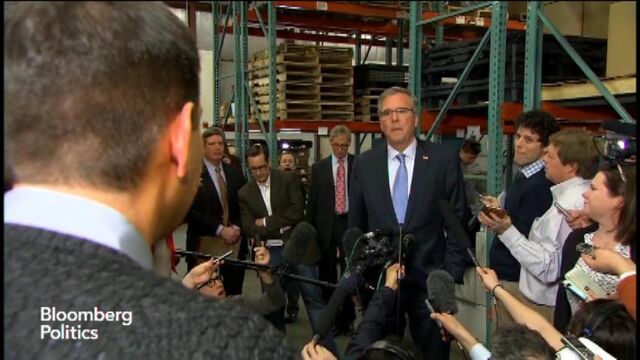 Before it's here, it's on the Bloomberg Terminal.
LEARN MORE