Will Jeb Bush Succeed Where His Brother and Father Failed?
New Hampshire hasn't always been a kind state to the Bush family.
by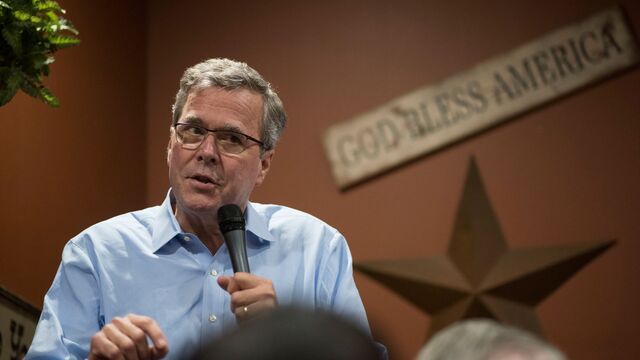 Jeb Bush got his first lesson in the courtship rituals of New Hampshire primary voters in 1980, when his father sought the Republican presidential nomination. In 2000, the last time that Bush visited the Granite State for politics, he worked on his brother's behalf.
On both occasions, the Bushes failed to win over these voters, who prize, above all else, up-close-and-personal interactions with their candidates.
Now Jeb Bush will begin wooing on his own behalf, when he travels to New Hampshire on Friday for his first visit as a probable presidential candidate. Local Republicans are ready: So many people are expected to attend political consultant Fergus Cullen's evening house party for Bush that the city manager of Dover sent a bucket loader to move snow so that more cars can park in the neighborhood.
"This is big. Very big. Like opening day of the baseball season," said Tom Rath, a Concord lawyer who has been involved in Republican politics for three decades. "Jeb will get a fair judgment on who he is. Having said that, he is a brand name, and there is an expectation of how he performs."
If there's any doubt of the importance of New Hampshire, which holds the nation's first primary early next year, after the Iowa caucuses, consider this: Bush, a former Florida governor, is one of four Republican presidential hopefuls swinging through the state this weekend. Wisconsin Governor Scott Walker is scheduled to arrive Friday for the first time since 2012 and will meet with local media and politicians before giving a speech to party activists on Saturday.
Former Texas Governor Rick Perry is participating in a dozen events all over the state, and Texas Senator Ted Cruz is scheduled to meet with party officials on Sunday and address the Grafton County Lincoln Day Dinner that night. Kentucky Senator Rand Paul, New Jersey Governor Chris Christie, and South Carolina Senator Lindsey Graham already have made their first pilgrimages.
This state basks in its role in shaping American politics. Former Governor John Sununu, a Republican, likes to say, "Iowa picks corn. New Hampshire picks presidents." 
"It may not be the most diverse state in the union, but I would argue that the people of New Hampshire take the responsibility of the decisions they make more seriously than anybody in America," Arizona Senator John McCain, who twice won the state's primary, said last month while appearing on a Bloomberg Politics panel  marking the primary's centennial. "And it's justified because it obviously is the springboard for further victories, or, elimination from the race. "
Bush has led most of the early New Hampshire polls, but at least so far, the contest seems unusually wide open, Rath and others said. A Bloomberg Politics/Saint Anselm New Hampshire survey of Republican primary voters early last month showed Bush with only a slight edge over Paul and Walker. Unlike Iowa, where caucus-goers tend to favor ideological conservatives who may be unelectable in other parts of the country, New Hampshire voters traditionally prefer center-right candidates, Rath said. 
This is especially true in years with no contested Democratic primary because the state's open system enables independent voters to cast either a Democratic or Republican ballot. So far, former Secretary of State Hillary Clinton, who has not yet announced she is running for president, dominates any would-be rivals. The Bloomberg poll showed Paul and Christie performing slightly better than Bush among independents.
"If you're going to run center-right, as Jeb Bush appears to be, you've really got to do well here," Rath said. "It's hard for me to imagine somebody winning the nomination from a center-right starting point without New Hampshire."
For Bush's father, George H.W. Bush, that proved true. After Bush won the 1980 Iowa caucuses, he declared that he had "Big Mo"–meaning momentum–and skipped a debate in New Hampshire. That gave Ronald Reagan the chance win New Hampshire, and then the nomination and the presidency. During Bush's next run, in 1988, he paid special mind to New Hampshire and won.
Then, in 2000, George W. Bush focused on big events in New Hampshire, to the irritation of voters used to meet-and-greets in their living rooms. He was steamrolled by McCain's Straight Talk Express, a bus tour that took him to more than 100 town halls. (McCain ultimately lost the nomination to Bush.)   
Jeb Bush almost certainly knows what to expect, and he seems to be preparing. This week, he expanded his New Hampshire team to include Rob Varsalone, who worked for Republican Senator Kelly Ayotte, and Nate Lamb, field director for Scott Brown's failed 2014 New Hampshire Senate campaign. His state director is Rich Killion, a top state Republican who was Mitt Romney's emissary in 2008 and Minnesota Governor Tim Pawlenty's in 2012.
On Friday afternoon, Bush will hold a roundtable discussion with members of the Nashua Chamber of Commerce in Hudson. He is scheduled to attend a few fundraisers, including one for Ayotte, and hold private meetings. But Cullen's house party in Dover, in the eastern part of the state, will give the former Florida governor his first taste of "real" New Hampshire politicking.  
"It's a real test with high stakes," Cullen said in an interview. He expected questions to be polite but direct--and covering all sorts of topics, big and small. Cullen said his home, which he described as upper-middle-class in an upper-middle-class neighborhood, will be packed mostly with friends and neighbors. 
Cullen, a former chair of the state GOP, isn't endorsing anyone just yet. He has offered his home to a small number of the potential 2016 candidates. (He won't say who, except that Cruz is not one of them.) Bush is the first to take him up on it.
In many ways, Cullen is the quintessential New Hampshire voter: He craves a center-right candidate and holds dear authenticity. Romney lost his vote because Cullen thinks the candidate went against his own beliefs and used immigration as a wedge issue to position himself as more conservative than McCain in 2008 and Perry in 2012.
Cullen saw that as politically motivated, not a real position. "You can't tell me the governor of high-tech Massachusetts didn't understand the need for immigration reform," he said.
Bush's family name and his likely financial advantage–call it "Big Money Mo"–over the other presidential hopefuls won't much matter in New Hampshire, Cullen predicted.
"Here, a candidate who can't sell and connect one-on-one is going to fail, no matter how much money they have, no matter what their record is," he said. "After New Hampshire, it's all green rooms and airport hangars and ballrooms. But none of that matters to us." 
– John McCormick contributed to this story.
Before it's here, it's on the Bloomberg Terminal.
LEARN MORE