Rand Paul Attacks Modern 'Segregation' in Speech at Black College
How the Kentucky senator is refining his message, dropping references from Ferguson to the novels of Tom Wolfe.
by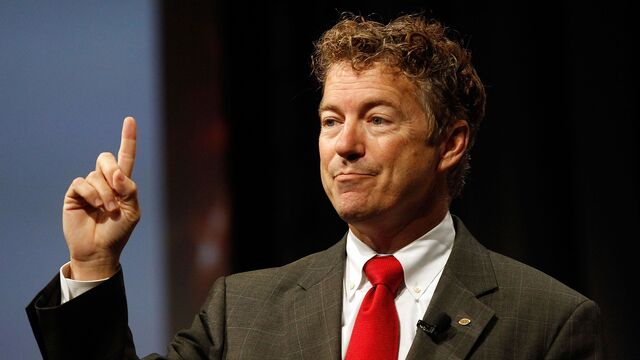 BOWIE, Md.—Rand Paul did not make a good first impression on Robert Stubblefield. In 2013, the then-20 year old student at historically black Bowie State College watched a livestream as the Kentucky senator spoke at historically black Howard University. It didn't go well for Paul, who was interrupted by a protest, and laughed at by students whom he presumed to teach black history.
"He sounded like he was talking down to blacks about the Republican Party," recalled Stubblefield, now a graduate student in public administration. "How come you guys abandoned us? We're the ones that freed the slaves! There was a time when y'all voted Republican! He didn't understand, it wasn't like we just voted for Democrats. We voted on issues."
Two years later, Stubblefield had a fourth-row seat for Paul's visit to Bowie State. He'd initially sat in a back row, behind half a dozen cameras set up to tape Paul. But several students in those seats were encouraged to move to the front. Even when they did, the student center ballroom that hosted Paul's speech was a little more than half full, with white libertarian visitors (at least 45 had signed up on a Facebook event page) complicating the image somewhat.
The content more than made up for that.* Paul has sharpened his pitch to black audiences over many visits and roundtables, some well-covered and some more private; he's also re-introduced sentencing reform bills that give him more to talk about.
"Those of us who have jobs and have lived fairly privileged lives don't know what it's like to pay fines and penalties on top of other fines, and how someone's life can spiral out of control," said Paul, leaning on a podium and wearing a plaid shirt and jeans. "As I've learned more about criminal justice system, I've come to believe it's something that's going to keep the two Americas separate."
Paul ran through data and examples, from Ferguson to the novels of Tom Wolfe, to demonstrate the tragedy of over-criminalization. Some of his examples had clunked when he debuted them on TV or radio appearances. "What reason do we have for telling the police that they have to take someone down for selling cigarettes that aren't taxed?," asked Paul. "Couldn't we give them a ticket?"
He was referring (though not by name) to the Eric Garner killing in New York, and while that analysis had been a brief outrage last year, it made no ripple in the Bowie State auditorium. That was likely because he put everything in the context of laws discriminating against non-whites and the poor. The effect of current de jure criminal codes, said Paul, was "somewhat like segregation."
Paul never lost his audience, largely because the format was so tightly controlled. Instead of calling on audience members, Paul spoke to a moderator who based some questions on suggestions provided by the crowd. The only question from the audience focused on a remark he made about how he wanted tax-free zones in blighted cities like Detroit, and that it wasn't acceptable to just hand over "a billion dollars" and accept cities to fix themselves.
"We give Israel $3 billion annually," said Pierre Dorival, a sophomore at the college. "Where does that money come from, if we don't have it for Detroit?"
"It's true of everything on the margin that we don't have money for some things," answered Paul. "The other day we had people come in wanting money for diabetes. There's a lot of good causes out there, and they want money for it, but I tell them what I tell everybody else: If there's a cause you believe in, you have to figure out where the money comes from."
Dorival tried to follow up, but the moderator moved on. The entire presentation lasted 41 minutes, shorter than the one hour advertised on fliers that could be seen sharing corkboard space with movie nights and a "Black Lives Matter" vigil that would be happening later in the day. When Paul left the room for private meetings, organizers kept the crowd inside, briefly, to avoid any rushes or press scrums.
Instead, outside, there was a hubbub of conversations and activism. Michael Steele, the former Maryland lieutenant governor and Republican National Committee chairman, had sat in the second row for the speech, and hung around to praise Paul for making the effort and talking about race and justice.
"It impacts everything you do—how you run your business, where you educate your kids, and how you drive home at night," said Steele. "You get up in the morning: You're black. You go to bed at night: You're black. Everything that's in between, that issue is interwoven."
Steele only found fault with Paul's approach when Igor Bobic, a reporter for the Huffington Post, asked if Republicans could credibly talk to black voters, about anything, without supporting a new Voting Rights Act.
"No, we should have someone put the bill on the floor in the House and Senate, and roll with it," said Steele. "It's a foreign object to them—oh, we don't need to do anything, we'll worry about it later. Really? You're going to go into the next presidential cycle with black people thinking you don't want them to vote?"
Voting rights did not come up in the brief Q&A. In his opening remarks, Paul only mentioned them in passing.
"I think the good thing is that more minorities voted, in a higher percentage even than whites, in Mississippi and other states the last time around," he said. "So we've come a long way. But the main thing precluding voting in this country is a felony conviction."
That sentiment, if imperfect, was enough for Paul's audience. He'd shown up.
"When I was looking at colleges, a couple I applied to asked if I'd ever committed a crime, to fill in a box," said Stubblefield. "He's aware of the issues facing black Americans every day. I respect him for that."
*That said, one Democratic group was ready to "bracket" the Paul speech with a sheaf of data and questions that would have embarrassed him in front of black voters. The group punted on the idea after it seemed like the audience was not large or skeptical enough to ask the questions.
Before it's here, it's on the Bloomberg Terminal.
LEARN MORE