Obama Says Search for Ferguson Shooter Can't Stop Work on Race
Margaret Talev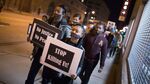 President Barack Obama said whoever shot two police officers in Ferguson, Missouri, must be brought to justice, and the attack shouldn't stop efforts to heal racial divisions in that city and the rest of the country.
"They're criminals, they need to be arrested," the president said of the officers' assailants in an appearance on ABC's "Jimmy Kimmel Live" on Thursday. "What had been happening in Ferguson was oppressive and objectionable and was worthy of protest but there was no excuse for criminal acts, and whoever fired those shots shouldn't detract from the issue."
The two lawmen were wounded early Thursday while standing in a line of about 25 officers in front of the Ferguson police station after a night of protests calling for the mayor to step down. There were no immediate arrests. Police Chief Thomas Jackson said Wednesday he would resign and the city manager also quit following a Justice Department report that said that Ferguson fostered systemic racism through its police and courts.
The death of Michael Brown, 18, shot Aug. 9 in an altercation with a Ferguson officer, prompted riots and looting. The officer had stopped Brown in the street after a robbery.
"What we need to do is make sure that like-minded, good-spirited people on both sides, law enforcement who have a terrifically tough job and people who understandably don't want to be stopped and harassed just because of their race, that we're able to work together to try to come up with some good answers," Obama said.
Other Topics
Kimmel avoided questions about the latest incident involving alleged misconduct by Secret Service agents or troubles with the Department of Veterans Affairs ahead of Obama's visit Friday to the VA hospital in Phoenix.
Alluding to the controversy over Hillary Clinton's use of a personal e-mail address for government emails during her tenure as secretary of state, Kimmel asked Obama whether he had Clinton's new e-mail address. "I can't share it with you," Obama laughed.
He also answered a question about his own use of personal technology.
"I don't text. I e-mail. I still have a BlackBerry," Obama said. "I can't use phones with recorders in them so a lot of the new fangled stuff for security reasons I don't get."
Before it's here, it's on the Bloomberg Terminal.
LEARN MORE