Obama on TMZ, Midnight Snacks, and Jeff Spicoli
No tough questions about the problems with the Secret Service, or Hillary Clinton's e-mails.
by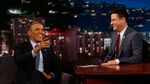 Late-night host Jimmy Kimmel didn't tease out serious news Thursday night in his interview with President Barack Obama, but the president did reveal some fun facts:
Beware TMZ! Obama said that his daughters, Sasha and Malia, are "doing all the stuff that teenagers are doing," especially when it comes to social media, but that "Michelle and I try to emphasize to them that they don't want to be on TMZ."
The leader of the free world does not run down to the White House kitchen in his underwear if he gets hungry in the middle of the night. "I mean, I could, but I don't." Nor would he wake up the kitchen staff to make him a late-night sandwich. We know these things because Kimmel asked. When Obama needs a dentist, he never has to leave the building. "The dentist comes to me." Obama doesn't change the clocks himself when it's Daylight Savings Time. "Somebody else does that for me."
We already knew that Obama still uses a BlackBerry and that there are security concerns about using different brands of data devices. But he shed a little more light on the issue. "I can't use phones with recorders in them, so a lot of the newfangled stuff for security reasons I don't get," he said. He also ruled out any eventual unearthing of interesting text messages from his presidency: "I don't text."
Antagonistic U.S. lawmakers and birthers still make for good one-liners as long as the president is concerned. Asked if he drives, Obama of course said the Secret Service doesn't let him, then quipped, "In Kenya we drive on the other side of the street." After playing along with Kimmel in a recurring show segment called "Mean Tweets" in which celebrity guests read aloud nasty Twitter messages strangers post about them, Obama remarked of his, "Those weren't that mean. I've got to tell you, you should see what the Senate says about me."
Obama considers the 1980s teen movie Fast Times at Ridgemont High to be "classic." "I lived it, man, I didn't just see it," he said.
On a more serious note, Obama said the shooting of two police officers in Ferguson, Mo., should not detract from the work the city and the nation must do to combat racism and racial divisions even as the shooters must be brought to justice. "They're criminals, they need to be arrested," Obama said. "What had been happening in Ferguson was oppressive and objectionable and was worthy of protest but there was no excuse for criminal acts, and whoever fired those shots shouldn't detract from the issue."
Kimmel didn't ask the president about the latest Secret Service scandal, after teasing the crowd before his interview with the president by joking that his show sidekick, Guillermo, was wearing dark glasses because he had a hangover from being in the "Secret Cerveza."
The closest Kimmel got to the Hillary Clinton e-mail controversy was to ask Obama whether he had Clinton's new e-mail address. "I can't share it with you," Obama laughed.
Before it's here, it's on the Bloomberg Terminal.
LEARN MORE