Matt Drudge's Anti-Hillary Flirtations of the Week
Carly and O'Malley and the Drudge bump.
by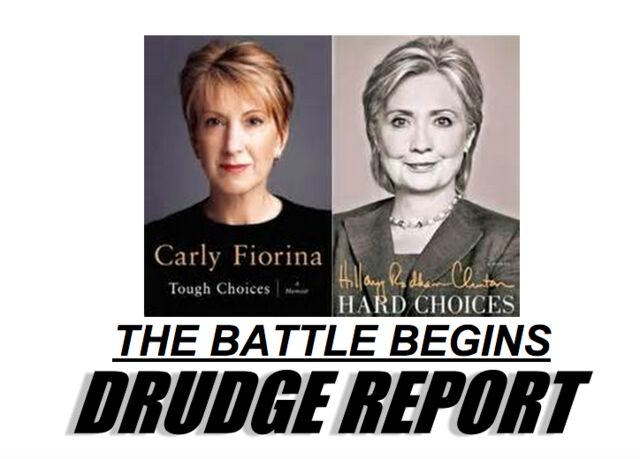 Former Maryland Governor Martin O'Malley is exceedingly likely to run for president. In appearances this week in New Hampshire, Kansas, and Washington, O'Malley has received questions about another likely candidate, Hillary Clinton; he's done his level best to turn the discussion back to his record, or data privacy, or the income gap, or anything but her emails. This has been met with mixed success.
O'Malley got a far more sympathetic bump on the Drudge Report. For much of Thursday, a double-take-worthy (and much syndicated) photo of O'Malley playing with his Irish rock band, O'Malley's March, rested above links to stories about the insurgent's 2016 pitch.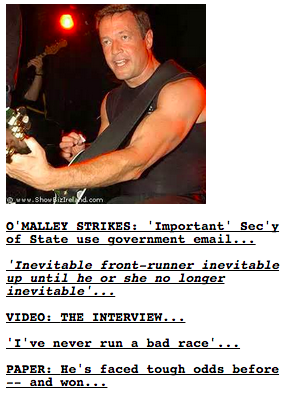 On Friday morning, O'Malley's mug (and biceps) vanished. They were replaced, in the lead slot, by a link to an Amy Chozick read on Carly Fiorina's aggressive campaigning in New Hampshire and Iowa. "She accused Mrs. Clinton, whose most recent memoir is 'Hard Choices,' of copying the title of her own 2006 memoir, 'Tough Choices,'" wrote Chozick. "An aide to Ms. Fiorina posted an image on Twitter of the two book jackets side by side."
The Fiorina-as-un-Hillary story had been kicking around for a while, but this iteration of it got beamed into the faces of the reporters–more than readers know–whose 2016 coverage is colored by Drudge. Complete with book diptych.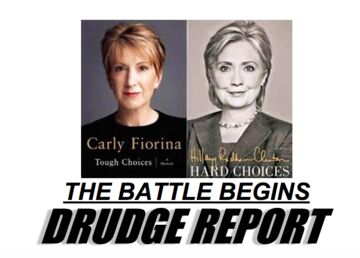 Fiorina-world was pleased. "It's still very much a thing to be the Drudge Banner, vs. websites with similar views, even," wrote Fiorina spokeswoman Sarah Flores in an e-mail. (I had asked how the Drudge placement was received, with an educated guess about the answer. "It's its own mark of conservative credibility or traction."
The message is clear: No anti-Hillary is too marginal in early states (Fiorina and O'Malley poll in the margin of error) to get some attention from the press's unofficial assignment desk.
Before it's here, it's on the Bloomberg Terminal.
LEARN MORE