Republicans Split on How to Best Attack Hillary Clinton E-Mails
They're trying a little bit of everything.
by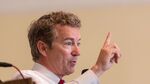 Judging by Republican presidential contenders' comments on Hillary Clinton's e-mail controversy, there's no consensus about how to most effectively attack the presumptive Democratic frontrunner. So in the face of Clinton's insistence that her inbox habits were in-bounds, they're trying a little bit of everything.
Some, like Kentucky Senator Rand Paul, are emphasizing trust and accountability. On Wednesday, his political-action committee published a video called "Convenience," criticizing Clinton for her stated explanation of the dual-use e-mail account. "To me, it seems to be deception," Paul says, adding that his "sense of trust is a little bit lost."
Former Hewlett-Packard CEO Carly Fiorina also hit on trust after Clinton's Tuesday press conference, tweeting, "In effect, @HillaryClinton told us to trust her. Nothing in her track record suggests we should do so." Louisiana Governor Bobby Jindal told BuzzFeed: "From Benghazi, to this, to the Russia reset, there seems to be a lack of accountability. ... There's just a pattern here where bad things happen on her watch and she doesn't take responsibility for it."
Then you have the transparency hawks. Jeb Bush, who has released many e-mails from his time as Florida governor, tweeted after the Clinton story broke: "Transparency matters. Unclassified @HillaryClinton emails should be released. You can see mine, here." Senator Lindsey Graham of South Carolina said a third party should review Clinton's messages to help maximize insight into her handling of the 2012 Benghazi attacks and any possible co-mingling of State and foundation work.
Senator Ted Cruz of Texas hit on both themes on Wednesday in an interview with conservative radio host Hugh Hewitt on Wednesday, calling for an investigation by someone who is not "a partisan prosecutor at the Department of Justice who is engaged simply in a cover-up and a whitewash. It needs to be someone with impeccable integrity to investigate whether she violated the law."
The question of what angles Republicans should pursue—without appearing to overreach—has been a subtext of the story since it broke last week. In a widely shared column for Politico, Florida-based Republican strategist Rick Wilson advised his party to "stop talking unless and until you have a plan."
"Don't make it all about Benghazi (they're expecting that) or the record-keeping laws (boring)," he wrote. "Touch on those selectively, but focus instead on the grave national security risks that her amateur-hour e-mail server shenanigan posed and more broadly what this says about the Clinton culture."
Some potential candidates have done just that. (Clinton said Tuesday she did not e-mail classified information and had no evidence of any security breaches).
Wisconsin Governor Scott Walker told the Weekly Standard on Sunday that he worried Clinton might have compromised sensitive information. "How can she ensure that that information wasn't compromised?" Walker said. "I think that's the bigger issue—is the audacity to think that someone would put their personal interest above classified, confidential, highly sensitive information that's not only important to her but to the United States of America."
Former New York Governor George Pataki tweeted Thursday, "I don't care about @HillaryClinton yoga routine" (which she said was the subject of some of the personal correspondence that she ultimately decided to discard). "What I do care about is US enemies hacking insecure email."
Before it's here, it's on the Bloomberg Terminal.
LEARN MORE