Obama Practices Political Maintenance on West Coast Swing
Margaret Talev and Justin Sink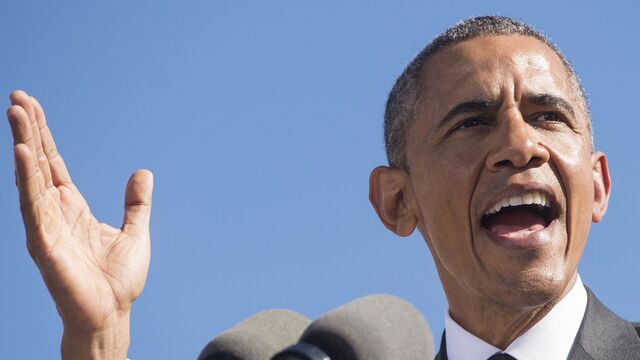 President Barack Obama is engaging in political maintenance over the next two days, raising money, catching some younger TV viewers and visiting a troubled veterans' hospital that he bypassed earlier this year.
In Los Angeles on Thursday, the president will tape ABC's "Jimmy Kimmel Live," making up for a promised appearance that was scrapped last year because of crises in Ukraine and the Middle East.
He's then scheduled to attend a small, closed-door fundraiser with high-dollar donors in Santa Monica for the Democratic National Committee. The roundtable event is expected to include 25 people paying up to $33,400 each, according to a Democratic Party official, who spoke on condition of anonymity to provide details about the event.
On Friday, Obama will travel to Arizona to visit the Phoenix Veterans Affairs Medical Center, where revelations that delays in providing care were covered up triggered a national review and the resignation of VA Secretary Eric Shinseki. He will be accompanied by the current secretary, Robert McDonald.
The VA continues to be beset by complaints from lawmakers and veterans about the quality of care and slow progress being made in a promised effort to overhaul how the agency treats veterans. McDonald was at the center of a controversy last month after he when he misstated that he was in U.S. military special forces. He subsequently apologized.
Obama's failure to stop at the Phoenix VA facility in January while in town for an event on his administration's housing policies drew criticism from veterans' advocates.
Bad Stretch
McDonald and the VA have had a bad stretch recently, said Dan Caldwell, who is legislative and political director for Concerned Veterans for America and who lives in Phoenix. "I think the White House saw this. And I think they see it as, the problems with the VA haven't gone away and they need to go to the Phoenix VA, that, 'We need to get ahead of this thing.'
''I think it's positive the president's going there," Caldwell said. He said he'll believe the administration's sincerity "when they walk the walk, not just talk the talk."
The Phoenix VA facility was at the center of last year's firestorm over the treatment of veterans after whistleblowers alleged that patients were waiting months for basic medical care. A subsequent investigation by the administration revealed systemic management issues and substandard care at VA facilities across the country.
Shinseki was forced by Obama to resign over the scandal, and Congress passed a $16.3 billion bill to overhaul the beleaguered agency.
McDonald made Phoenix his first visit after confirmation, and wait times there had been cut by 30 percent, according to the White House. The Phoenix health care system has also increased staffing by more than 300 employees.
Before it's here, it's on the Bloomberg Terminal.
LEARN MORE