Martin O'Malley Refrains from Attacking Clinton Over E-Mails, Again
But he does suggest some Democrats go too easy on Wall Street—and that Clinton may not be inevitable.
by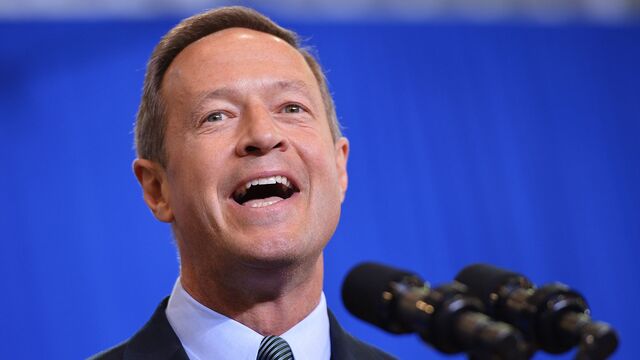 Martin O'Malley still isn't attacking Hillary Clinton over her e-mail controversy. In fact, on Thursday, he praised her.
"I supported Secretary Clinton back in 2008," said the potential Democratic presidential candidate on MSNBC's Morning Joe, asked what he would tell voters who want to cast a historic vote to make Clinton the first female president. "I have a tremendous amount of admiration for her."
O'Malley demurred on a question (from Bloomberg Politics' John Heilemann) of whether he thought Clinton had done anything wrong by using only personal e-mail as secretary of state, as he has done since the controversy erupted last week.
"I don't feel compelled to answer that," he said. "Secretary Clinton is perfectly capable of defending her own service and office."
Asked what he thought about a Washington Post op-ed by Dana Milbank saying "he's campaigning as if he's running to be Clinton's EPA administrator or her OMB director," O'Malley insisted he has "never run a bad race."
"I learned in a student council election at Gonzaga you don't get in to races unless you're committed to win," he said.
O'Malley did offer some criticism of his party more broadly, however. On how to address income inequality, he said, "Some people in my own party are holding themselves out as promoting some sort of Dodd-Frank lite: 'We don't want to offend anyone on Wall Street. So let us not talk honestly about how we can rein in this excessive behavior.'"
He also suggested Clinton might not always hold her lead in the polls, which show her as the overwhelming primary favorite while O'Malley registers in the single digits.
"Most years there's the inevitable frontrunner," he said, "and that inevitable frontrunner is inevitable right up until he or she is no longer inevitable."
Under fire by Republicans, Clinton herself has defended her e-mail practices, denying any wrongdoing but acknowledging "it might have been smarter" to use a separate device for work.
Before it's here, it's on the Bloomberg Terminal.
LEARN MORE