Facebook Can't Tell the Difference Between Art and Porn
Step over the line on social media? You get banned. Is that any way to run a diverse community?
by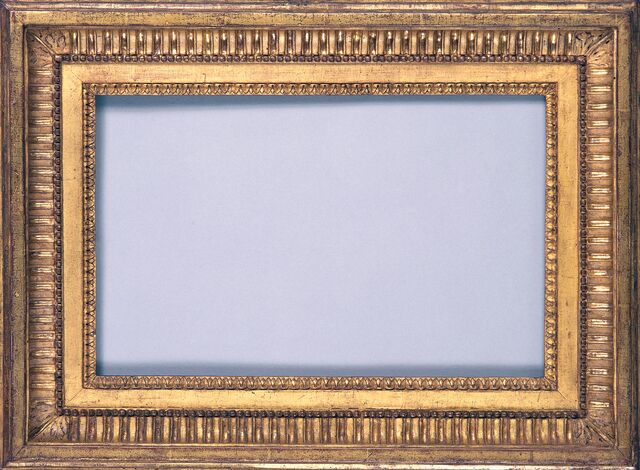 Jerry Saltz, New York magazine's art critic, has become a darling of social media users for his witty, playfully lascivious posts—a snow sculpture of a scene of fellatio; a detail of a 2,000-year-old Pompeii fresco in which a woman is mounting a man; an embroidery painting of an iPhone tuned to an Instagram post that shows a woman masturbating—but less so of social media companies. Last Wednesday, Saltz received a notice from Facebook informing him that access to his account had been suspended. He was not given an exact explanation, he told a reporter at the New York Times, but he assumed the move was in response to his provocative postings. This was not the first time that Facebook had pushed back against Saltz's brand of ribaldry, all debauchery and double entendre—nor was it the first time that Facebook had moved to censor what (at least some of) its users call art.
As of New Year's Eve, Facebook had 1.39 billion monthly active users: a hefty portion of all the earth's people. For a private company of such scale, predicated on personal, often intimate, sharing, how to regulate what people see? Art, Saltz has written, is about "extraordinary openness," letting freak flags fly. He's certainly given ample thought to pornography and nudity in today's culture. (Saltz is Lena Dunham's godfather, for crying out loud.) But the issue isn't free speech and the freedom to bare all; it's Facebook. How can Facebook allow, even foster, art, expression, and culture, and still serve as responsible mediator?
Facebook's "community standards" ban pornography outright, and limit the display of nudity. But in its groping toward principle, company policy on graphic content actually invokes a Renaissance master: "We aspire," Facebook says, "to respect people's right to share content of personal importance, whether those are photos of a sculpture like Michelangelo's David or family photos of a child breastfeeding."
Of course, some couple's homebrew sex-tapes are of "personal importance" to them, and not every nude depiction is as noble as David. Facebook's attempt to police clamps down on cultural representation far more than it does on ordinary conversation, and can wind up obtuse. Three years ago, Facebook removed an image of a nude woman by Gerhard Richter from the Facebook page of the Parisian museum the Centre Pompidou (perhaps over confusion about whether it was a painting or a photograph). Two years ago, it censored the Facebook page of the Parisian photography museum the Jeu de Paume after it posted a Nude Study by the French photographer Laure Albin Guillot: The subject's breasts were bare. Last year it reformed its policy on photos of breastfeeding and mastectomy. But the policies regarding art continued to be tangled: Berlin-based photographer named Peter Kaaden visited the Louvre and posted a photo of a nude sculpture. It got taken down (then inspired Kaaden to post some cheekily pixelated images of similar art). Is it any coincidence that the Pompidou, the Jeu de Paume, and the goddamn Louvre are three of the greatest museums in Paris, capitale de la culture?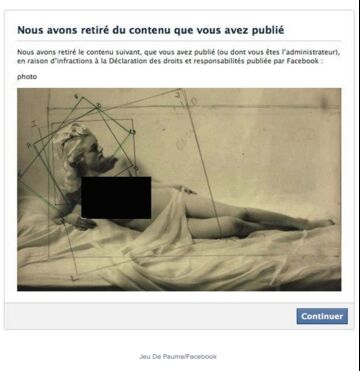 When Saltz was temporarily removed from Facebook last November (he's already back this time, too), he expressed concern over the conservative direction of the art world. But more than changes there, Saltz seemed to be objecting to the fact of art subjected to social media.  He asked, "How did we come to live in an insular tribal sphere where unwritten rules and rigid moralities—about whom to like and dislike, what is permissible to say and what must remain unsaid—are strictly enforced via social media?" 
Social media democratizes, yes, but it also flattens. Saltz reported, with some shock, that he'd been called "'sexist,' an 'abuser of women,' and a 'pervert' for posting on Facebook a graphic picture of a woman's thrashed behind"—a self-portrait by a friend of his, which she had "posted proudly" on her own Twitter feed. But no matter.
Social media's tangled policies are particularly fraught when it comes to women. Every college freshman can tell you that the representation of the female body tends toward sexualization. This has translated to some particular awkwardness, among social media companies, when it comes to depictions of the female form. Earlier this year, Instagram, which Facebook owns, deleted the account of Sticks and Stones, an online magazine based in Australia, because Sticks and Stones had posted a picture of two women in bathing suits—not shaved, not waxed, au naturel. (This is to say, some pubic hair was showing.) The incident was not, as Jessica Valenti noted in the Guardian—the newspaper that crowned 2014 "the year of the bush"—the first time that Instagram censored an account depicting some pubic hair peeking out from under. In fall, 2013, the photo-sharing site deleted the account of Petra Collins, a Toronto-based artist. Not, she wrote, for "nudity, violence, pornography, unlawful, hateful or infringing imagery, [but for] an image of MY body that didn't meet society's standard of 'femininity.'"
In a blog post on the censorship of Sticks and Stones, Mic quoted a model and self-described body-image expert named Jessica Lewis. Lewis said, "Why is it inappropriate for women to show natural REAL pubic hair in images when we have Justin Bieber having his photoshopped in for his most current Calvin Klein campaign with Lara Stone? If a male can be enhanced in post to look more masculine by way of pubic hair, why can't a woman feel accepted in society to be feminine in showing hers?" (Instagram later apologized for removing the picture, citing the struggle to "find a good balance between allowing people to express themselves creatively and having policies in place to maintain a comfortable experience for our global and culturally diverse community.")
Beyond Jerry Saltz, last week marked another development in a case of Facebook versus art. Last Thursday, a French court decided that it has the jurisdiction to hear a case against Facebook,which of course is an American company, over Facebook's decision to block the account of a French teacher who posted the celebrated painting by Gustave Courbet, "L'Origine du Monde" ("The Origin of the World"). (The painting depicts a vagina.) The French teacher, who has not been named in the French press, posted the image on his Facebook in page in 2011. He was infuriated when Facebook blocked his account in response, feeling his freedom of expression violated. He filed a complaint in a French court, asserting that Facebook doesn't seem to know the difference between pornography and art.
(Courbet's painting was a thing of controversy when it debuted, in 1866, and last June, when an artist approached its spot in the airy Musée d'Orsay, sat herself down, and opened her legs. She was taken into custody, but the prosecution declined to press charges—may be a hard case to win, discomfort toward the real thing in front of its representation.)
Facebook likes to pitch itself as a space for all humanity; that's why it's schemed up Facebook for Every Phone, a means of expanding use in countries, like Brazil and India, where cheaper 'feature phones' are the norm. It is so ubiquitous in our lives that we may confuse it for the World Wide Web. We forget how much we cede to its regulations, and so feel indignant when it cracks down and blocks our posts. Of course, Facebook itself has every interest in tamping down what might come across as indignity, which is why it has shut down Jerry Saltz. 
As the law professor and free speech-expert Jeffrey Rosen put it to the Times, "Facebook has more power in determining who can speak and who can be heard around the globe than any Supreme Court justice, any king or any president." Courbet is long deceased, but an artist today, attempting to paint the human form afresh, may feel less inclined to go for nudity. Who, after all, wants to miss out on an audience of almost 1.39 billion?
The difficulties that Facebook, its acquisitions, and its brethren have with the edges of culture suggest the hollowness of the term. Social media, we say. But if they're governed by the rules of corporate communication, how social can they be?
Before it's here, it's on the Bloomberg Terminal.
LEARN MORE