Clintons Did Not Use Taxpayer Money for E-Mail Server, Office Says
But Bill Clinton in on track to receive more taxpayer funds than any other former president, according to a new report.
by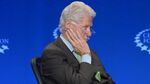 The private e-mail server that Bill and Hillary Clinton maintained at their home was funded personally, not with taxpayer money, the former president's office told Politico in a story published Thursday. 
The news outlet, citing federal records, found that Bill Clinton is on track to receive $16 million by November 2016 for his "pension, travel, office expenses and even the salaries and benefits of staff at his family's foundation" under the Former Presidents Act, more than any other former president. 
Bill Clinton's payouts "appear to be compliant with government guidelines," Politico reported.
Hillary Clinton, the presumptive Democratic frontrunner for president in 2016, defended her e-mail practices after the New York Times reported last week that she only used a personal account while serving as President Obama's top diplomat from 2009 to 2013.  
She said at a news conference on Tuesday that "there were no security breaches" of the system, which was first set up for her husband's staff (Bill Clinton himself does not use e-mail, a spokesman has said) and was protected at their Secret Service-guarded home.
Republicans, open-government advocates, and security experts have said Clinton's practices raise a host of questions, and House Benghazi investigator Trey Gowdy has said he plans to ask Clinton to testify about the issue.
Before it's here, it's on the Bloomberg Terminal.
LEARN MORE