Tom Cotton for President?
The Arkansas senator is a hot political commodity, and some want him to be able to run for re-election and the White House at the same time.
by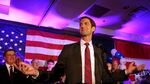 That was fast. 
Arkansas Senator Tom Cotton jumped into the national spotlight in a big way this week, orchestrating a letter designed to put the brakes on the talks between Iran and the United States that aims to keep Tehran from obtaining a nuclear bomb. The ensuing publicity for Cotton, both positive and negative, did not go unnoticed by his admirers, including Arkansas state Senator Bart Hester. 
Hester has introduced a bill in the state legislature that would allow Cotton to seek re-election and run for president simultaneously, a balancing act prohibited under current Arkansas law. 
"Tom Cotton would be my current idea of someone who should be afforded this opportunity," Hester said Tuesday, according to the Associated Press. "Politics, if I've learned anything, it changes every day and there could be the great next hope show up tomorrow. But I don't think it's reasonable to say I wouldn't be looking at Tom Cotton to have that opportunity."
Cotton, who began his first term as a U.S. senator in January, was first elected to the House in 2012. Before entering politics, he worked as a lawyer and served in the U.S. Army, and was deployed in Iraq and Afghanistan.
The deeply conservative, Harvard-educated lawmaker hasn't said anything about a potential run in 2016, but if Hester's bill passes, he could try for both offices in 2020. 
Following the Iran letter, Cotton has received glowing praise from the current crop of prospective GOP presidential candidates, and is mentioned in a new fundraising letter by Florida Senator Marco Rubio. 
Before it's here, it's on the Bloomberg Terminal.
LEARN MORE