Texas Lawmakers Butt Heads Over 'Former Fetus' Name Plate
The signs were short-lived.
by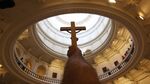 Texas state lawmakers tussled Wednesday over the removal of a plaque identifying one of them as a "former fetus."
Republican state Representative Jonathan Stickland put up the plaque outside his office door, saying he got it from the anti-abortion group Texas Right to Life, according to the Texas Tribune.
"Today Planned Parenthood is visiting and lobbying the Capitol," he wrote on Facebook. "In honor of their visit, I put this sign up on my office door. Organizations that murder children are not welcome in my office."
The sign's moment in the sun was short-lived. Stickland said another Republican lawmaker, Charlie Geren, had "ripped down" the sign and thrown it in a staffer's face.
Geren told the Tribune he removed the sign because it violated the State Preservation Board's policies.
Before it's here, it's on the Bloomberg Terminal.
LEARN MORE