Post-Speech, Netanyahu's Favorability Drops with Americans
Polls conducted before and after the Israeli prime minister's address before Congress show a shift.
by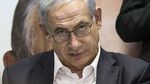 Maybe that speech before Congress wasn't such a good idea after all. 
Israeli Prime Minister Benjamin Netanyahu's favorability ratings with Americans have fallen in the wake of his March 3 address at the U.S. House of Representatives, a new Gallup poll finds. 
Conducted between March 5-8, the new poll shows Netanyahu's favorable rating fell seven points (to 38 percent), while his unfavorable numbers jumped by five percentage points (to 29 percent) in comparison to the same poll Gallup conducted from February 8-11. 
House Speaker John Boehner invited Netanyahu to address Congress without consulting the White House, a shift in protocol at a time when President Obama's administration is attempting to negotiate a deal that would prevent Iran from obtaining a nuclear weapon. Netanyahu used his speech to try and convince lawmakers to kill any deal with Tehran until there is regime change in Iran. 
Citing the forthcoming elections in Israel, Obama did not attend Netanyahu's speech, nor did he meet with him during the prime minister's trip to Washington. Polls show a very tight race, in which Netanyahu is in real danger of being defeated, and his U.S. address having helped his chances. 
As for the Gallup survey, the decline in Netanyahu's favorable ratings had a partisan explanation. Just 17 percent of Democrats in the new survey gave Netanyahu a favorable rating, while 46 percent said unfavorable. For Republicans, on the other hand, 62 percent gave him a favorable rating, while just 16 percent said they viewed him as unfavorable. 
Before it's here, it's on the Bloomberg Terminal.
LEARN MORE