James Carville: Grover Norquist is 'Human Equivalent of Pond Scum'
The former Clinton adviser is not one to mince words.
by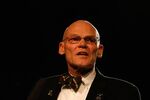 Tell us how you really feel. 
In a scathing letter published in the Daily Reveille, the student newspaper for Louisiana State University, political commentator and former Bill Clinton adviser James Carville lashed out at anti-tax activist Grover Norquist, calling him, among other things, "the human equivalent of pond scum." 
Carville's beef with Norquist is a result of Louisiana Governor Bobby Jindal's signature of Norquist's strict no-new-taxes pledge at a time when the state faces a whopping $1.6 billion deficit.  
"Our beloved university is being systematically dismantled and as a result of our Governor and a significant portion of our Legislature (twenty-six) pledging allegiance to a Washington lobbyist with the long history of shady dealings," Carville said in his letter. "Your future earnings and the quality of your education is being adversely affected by the fact that a pledge was signed to a Washington operator by the name of Grover Norquist that under no conditions could taxes be raised."
Revving up the rhetoric, Carville noted that Norquist had been linked by a congressional committee to swindler Jack Abramoff, and had been criticized by conservative Tucker Carlson, who called Norquist a "cash-addled, morally malleable lobbyist." Then, three paragraphs into the letter, Carville turned up the volume of his attack even further. 
"Norquist is the human equivalent of pond scum," Carville ventured. "He was a fellow traveler of pond scumite Abramoff and according to the Senate Indian Affairs Committee, Norquist's organization served as a "conduit" for funds from Abramoff's clients and conservative lobbying campaigns."
Carville also claimed that Jindal routinely sends legislation to Norquist for his approval, and chided both men, as well as Louisiana legislators, in trademark, salty Carville fashion. 
"Now for the comedy part, the Governor and Legislature constantly refer to how can they maintain their purity, or as it is sometimes referred to, their 'tax virginity.' You have to be kidding me," Carville wrote. "This reminds me of two over-sexed teenagers dry humping in a backseat of car parked behind a levee wondering how far they can go while maintaining their purity or virginity. We are literally at the mercy of buffoons and comedians. While they're humping, our university burns."
In response to Carville's attack, Norquist posted a tweet that included a link back to Carville's piece.  
And then he proceeded to laud Jindal's tax-cutting agenda even further. 
Before it's here, it's on the Bloomberg Terminal.
LEARN MORE