Did Rand Paul Flip-Flop on Iran By Signing Tom Cotton's Letter?
In January, the Kentucky senator said he favored keeping the "diplomatic option" open with Iran.
by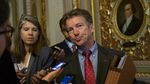 Of the 47 Republican politicians who signed a letter this week designed to scuttle the ongoing nuclear negotiations between Iran and the United States, Kentucky Senator Rand Paul stands out. 
After all, it was Paul who, at a Jan. 25 forum sponsored by the Koch brothers, took a stand against two of his potential presidential rivals, Senators Ted Cruz and Marco Rubio, over whether the Obama administration's diplomacy with Iran should be given a chance before further sanctions are put in place. 
"Are you ready to send ground troops into Iran? Are you ready to bomb them? Are you ready to send in 100,000 troops?" Paul asked his fellow senators. "I'm a big fan of trying to exert and trying the diplomatic option as long as we can. If it fails, I will vote to resume sanctions and I would vote to have new sanctions. But if you do it in the middle of negotiations, you're ruining it."
The unspoken purpose of the letter orchestrated by Arkansas Senator Tom Cotton, of course, was to bring negotiations with Tehran's government to a halt by calling into question the legal standing of any deal reached with the Obama administration not ratified by Congress. Yet Paul saw fit to add his John Hancock to the document. While Paul, an ardent defender of the constitution, routinely seeks to curb what he sees as a power-hungry executive branch, Cotton's letter also seemed designed to quash Paul's favored "diplomatic option."
This is not, however, the first time that Paul has seemed to harden his positions as he prepares for a potential White House run. This fall, he came under attack from former Pennsylvania Senator Rick Santorum on the subject of whether Paul supported cutting foreign aid to Israel. 
"He's suggesting yeah, cut off foreign aid to Israel. I was in Israel just a few weeks ago, and I can tell you the people there are very concerned about this isolationism creeping up within the Republican Party," Santorum said on the Steve Malzberg Show. "We see evidence that Rand Paul buys into this idea that Israel is the problem...the irritant within the Middle East, and that's just not where our country needs to be. We need to stand firmly with our allies and understand that the irritant is radical Islam and nothing else."
Defending himself from allegations from Santorum and others, Paul said on whether he favorited pulling foreign aid from countries that included Israel. 
"I haven't really proposed that in the past," Paul told Yahoo News. "We've never had a legislative proposal to do that. You can mistake my position, but then I'll answer the question. That has not been a position—a legislative position—we have introduced to phase out or get rid of Israel's aid. That's the answer to that question. Israel has always been a strong ally of ours and I appreciate that. I voted just this week to give money—more money—to the Iron Dome, so don't mischaracterize my position on Israel."
That response did not spare him, however, from further attacks. 
Paul has often seemed slightly out of step with the hawkish faction of his party, as was evidenced by the debate over whether he had clapped enthusiastically enough during Israeli Prime Minister Benjamin Netanyahu's address before Congress. 
"I gave the prime minister 50 standing ovations, I co-sponsored bringing him here, and on the day that I also decide to co-sponsor the Corker bill saying that any final deal [with Iran] has to be approved, we have gossipy websites looking at, you know, the metric of how fast you clap. I mean, I think they demean themselves by putting that out," Paul told Fox News in response to critics. 
Still, the question remains why voting for the Corker amendment and signing Cotton's letter while negotiations are ongoing over Iran's nuclear program does not constitute, to use Paul's words, "ruining it."
Before it's here, it's on the Bloomberg Terminal.
LEARN MORE