Democrats Accuse Senate Republicans of Anti-Abortion Sneak Attack
If a change isn't made to a human trafficking bill, Democrats say they won't provide the votes necessary to move it forward.
by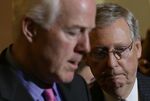 Search anywhere in the text of the legislation now on the Senate floor and you won't find the word abortion—not even once in any of its 68 pages.
That's the thing about bill-writing; the process can be like paper mache, with one layer over another. In the case of S.178, Democrats were surprised to find language pointing to a provision in another law dealing with restrictions on the funding of abortions.
That discovery shifted the Senate away from what could have been a bipartisan debate about a fund to help victims of human trafficking.
The top Democrat on the Senate Judiciary Committee, Patrick Leahy of Vermont, said he'd been given assurances that the version that came to the floor wouldn't have abortion language.
The bill's sponsor, Texas Republican John Cornyn, said there were no such assurances and Democrats could have found the provision when the bill was still in committee. He told reporters it's "just preposterous'' for Democrats to "wake from their slumbers and say, 'you snuck this in the bill.'"
What's interesting about the provision isn't what it says—there shall be no government funding for abortions, including the federal share of the Medicaid program—but where. Similar language has been in spending bills for years. The new twist is putting it into a multi-year bill that authorizes the basic elements of a federal program. That would enshrine that language in a different way that alarms some Democrats, such as Richard Blumenthal of Connecticut, a former state attorney general.
If the bill isn't changed, Democratic Leader Harry Reid of Nevada said his party won't provide the votes needed for the next procedural step.
"Unfortunately, Republicans are committed to turning a bipartisan bill into a political fight," Reid said Wednesday morning on the Senate floor. "We can have all kinds of debates out here as to how it got in the bill. A number of people feel it was by a little bit of sleight of hand."
"I hope my Republican friends will choose to do the right thing and take this out of the legislation and pass this bill without any gimmicks."
When the bill was before the Judiciary Committee, helping victims of human trafficking was so non-controversial that it was approved by voice vote. It's unclear, however, how many of the people in the room had figured out the fine print at that point.
Before it's here, it's on the Bloomberg Terminal.
LEARN MORE