AP Sues State Department for Clinton E-Mails
Andrew Zajac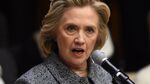 The Associated Press sued the U.S. State Department for Hillary Clinton's e-mails and other records, a day after the potential presidential candidate said she wouldn't consent to an outside review of her private server where the mail was stored.
The news service said it sought Clinton's e-mail under the Freedom of Information Act in 2013 and the State Department didn't disclose that the former secretary of state used a private e-mail account.
The AP asked in the lawsuit that the records be turned over within 20 days.
Although AP's requests "have been pending for years, State first asked Secretary Clinton to turn over e-mails from that personal account only last summer," according to a complaint filed Wednesday in federal court in Washington.
"State's failure to ensure that Secretary Clinton's governmental e-mails were retained and preserved by the agency, and its failure timely to seek out an search those e-mails in response to AP's requests, indicate at the very least that State had not engaged in the diligent, good-faith search" required by the law, according to the complaint.
Alec Gerlach, a State Department spokesman, declined to comment on the suit, citing a department policy of not discussing pending litigation.
What's Sought
The records sought include Clinton's calendars and schedules, records on the employment status of top Clinton aide Huma Abedin, e-mail about the raid on Osama bin Laden's compound in Pakistan, documents about surveillance and anti-terrorism programs, and records about the U.K.-based military contractor BAE Systems Plc.
The request for calendars and schedules was made in 2010. The other requests were filed in 2013, according to the complaint.
AP sought the records about BAE Systems to shed light on department decision-making that allowed the contractor to continue doing business with U.S government agencies despite a 2010 guilty plea to violating the Arms Export Control Act and other laws.
The case is Associated Press v. U.S. Department of State, 15-cv-345, U.S. District Court, District of Columbia (Washington).
Before it's here, it's on the Bloomberg Terminal.
LEARN MORE